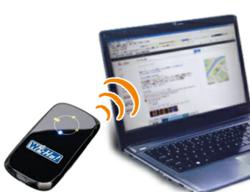 Save up to 90% on international wireless data
Pearland, Texas (PRWEB) May 02, 2012
When traveling to another country, first thing people do is turn off international roaming on their phone when they are about to leave. If the data plan is off, how is anyone supposed to use the internet? Someone may say to just find a WiFi hotspot to use the internet, but hotspots are not always easy to find. Many of them would require going online just to find the location, even then the location may not be convenient. No one wants to pay expensive data roaming charges, so there is only one convenient and cheap way to stay connected. A mobile broadband rental from Telecom Square USA is the best way to keep connected when traveling abroad.
This device can be carried in a pocket or a purse easily. It comes ready to transmit WiFi at the destination country. It can even connect up to 5 devices at once, allowing the whole family to connect with just one device.This can be used in many situations. Anyone who is lost can look up directions. If business needs to be handled while traveling, access applications like Gotomeeting and Skype to keep up with work. Emails can be checked for business or personal usage, which is always helpful when trying to keep in contact with people back home. If keeping up with social networks is all that is needed, it can easily do that too. All of this and more is available when using Mobile WiFi to stay connected, it's just like using wireless internet at home.
Now it's easy to see why a mobile broadband rental is useful. Telecom Square USA is a new provider of this service in the USA and is doing rentals for 15 different countries. Don't get caught overseas with no internet and no way to look up where to go, get a mobile broadband rental and stay connected.