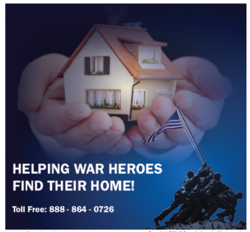 Making VA Mortgage & Real Estate Dreams a Reality - by SecurityAmericanRealty.com
Houston, TX (PRWEB) May 14, 2012
Recently, Security America Mortgage made the announcement of new Real Estate tools and VA Mortgage programs including many new financial options for Veterans needing to purchase a home using VA loan benefits.
The VA Home Loan Experts in the Houston, Texas mortgage industry now have readily available resources for military members active and non-active to choose from with the addition of Security American Realty, Inc. - the partnered company providing specialized Real Estate assistance during the home loan process.
There are many reasons to move to the state of Texas, as the homes and Real Estate is flourishing so well it's no wonder so many Veterans relocate to the Lone Star State. Not only is Texas a great place to move to, but it also holds the fourth largest city in the nation - Houston (home of NASA, international commerce, oil, & Southern hospitality). Not only is Houston culturally diverse, it is also rich in history, having some of the greatest foundations that make it easy to not only settle a family in, but also grow a great business from as well.
Veterans and military members are often given so much information out of active duty service that they forget half of what they are told. In those cases many will search the old school way of finding a home or a relocation spot that best fits their needs - and fail, sadly.
Times have changed, though, and with VA Loan Experts like those from Security America Mortgage, Inc., help with improving credit scores to approving a VA Mortgage is right around the corner (or a click of a mouse if you navigate through the Real Estate Services offered by companies like Security American Realty, Inc.
Why Are VA Loans So Popular In Houston, Texas?
Texas?
#1. Veterans are people, and people love great savings. With VA Home Loans, Houston Military Members save a tremendous amount of costs on closing fees and rates.
#2. VA benefits support VA home loans, and with state property taxes on homes, VA Loan Guaranty offers less risk that Conventional Home Loans or FHA home loans.
#3. VA loans are less expensive than traditional loans, but guess what else is less expensive (but great quality) in Texas Real Estate? The homes cost less than the cost of living and home prices that more than 65% of the national average.
Need more of a reason to move to Texas - or Houston if you're looking for a variety of fun mixed with a glamorous lifestyle on a thrifty budget? Check out the facts you need for buying a home in Houston, Dallas, Austin, San Antonio, Texas w/ VA experts who make the difference and find homes for sale that fit the needs of the buyer.
If the Texas heat isn't your thing, sponsorships in California and Colorado would be a best bet for a Veteran who prefers the West Coast or the Rocky Mountains.