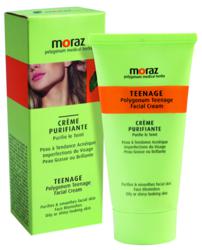 A Natural Solution to Teenage Acne
(PRWEB UK) 4 May 2012
Teenage Acne Facial Cream contains naturally active Polygonum, a botanical ingredient grown in the Galilee and renowned for its healing properties. Teenage Acne Cream's unique combination of naturally active ingredients dry out the problem skin area and rebuild the damaged skin tissues around the wound.
The principle ingredient, Polygonum, contains biochemical constituents and minerals with healing properties. Polygonum also contains antiviral and antibacterial agents, and is anti-inflammatory. Problem skin tissues are healed, balanced and strengthened, leaving skin beautiful, soft and blemish free, naturally.
Teenage Facial Cream has a significantly high herbal concentrate (75%) due to Moraz's unique production methods. This concentration of naturally active ingredients guarantees the efficiency of Moraz products. The results from international clinical and laboratory tests unequivocally support what we know to be true - the impressive efficacy of Moraz.
Moraz is the brainchild of Israel's greatest herbalist, Eliyahu Yahel. His vision was to create skin and hair care treatments based on potent medicinal herbal extracts. Moraz uses 15 plants in its products, the most notable being Polygonum.
Moraz products have been sold successfully around the world for over 25 years and are now available in the UK at http://www.finerself.co.uk. Moraz products contain no animal ingredients and are not tested on animals. Teenage Acne Facial Cream retails at £16.
The full range of skin and hair care products are also available from FinerSelf along with the Moraz Skin Saver that solves a wide range of skin conditions including Scar reduction, Eczema, Atopic Dermatitis and Psoriasis.