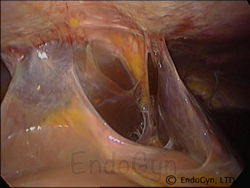 Adhesions are often the medically assigned back-seat rider in many cases of debilitating pain. Women must make themselves the front-seat driver when it comes to health.
(PRWEB) May 02, 2012
Responding to publicity for endometriosis generated by the Endometriosis Foundation of America, author and activist Karen Steward today expressed concern that attention to endometriosis, a condition that causes uterine tissue to grow outside the womb, is eclipsing the possibility that women with chronic abdominal pain may have ARD. Steward points to an article by F.M. Howard published in the December 2011 issue of "Obstetrics and Gynecology Clinics of North America," which lists adhesions as one of the top five reasons for chronic abdominal pain in women. "I don't want to minimize the importance of diagnosing or treating endometriosis," Steward says, "but as Howard's article states, endometriosis is not the only diagnosis that applies to women with abdominal pain."
ARD may be caused by any internal condition that causes inflammation or infection, including appendicitis or peritonitis. Most cases of ARD are caused by abdominal or pelvic surgery, which can damage the protective membranes that prevent internal organs from adhering to each other. While the bleeding and inflammation associated with endometriosis often cause internal scarring, Steward is concerned that doctors are prescribing treatment for endometriosis without considering other common reasons for adhesions.
Steward's daughter Melissa, who suffered from abdominal pain for fourteen years before having surgery in Germany to remove her adhesions, was misdiagnosed with endometriosis by one of her doctors. Melissa's doctor prescribed Lupron, an injectable drug that reduces estrogen production in order to minimize the heavy menstrual bleeding and pain associated with endometriosis. Lupron can cause severe side effects, including headaches, weight gain, fatigue, high blood sugar, nausea and chest pain. Lupron did not stop Melissa's abdominal pain; however, the drug did cause severe side effects for Steward's daughter.
ARD and endometriosis have many symptoms in common, Steward points out. Women with both conditions may experience severe abdominal or pelvic cramps, nausea, vomiting and infertility. If left untreated, the abdominal adhesions of ARD may lead to bowel strangulation or intestinal obstruction, a potentially life-threatening condition. While hormonal therapy may be an effective treatment for endometriosis, the only known treatment for ARD is surgery, according to the National Digestive Diseases Information Clearinghouse.
Without wishing to minimize the pain caused by endometriosis, Steward voiced concern that increased publicity for this disorder may draw attention away from the threat of ARD. "Endometriosis is being embraced by the medical community as a leading cause of abdominal and pelvic pain in women. Meanwhile, many of these women may be suffering from adhesions that have nothing to do with endometriosis," Steward says. "Their pain may continue while they take medications that will do nothing to treat the real reason for their symptoms."
Karen Steward is the author of the book Doctors: Bound By Secrecy? Victims: Bound By Pain! Steward's daughter, Melissa, suddenly became ill at age thirteen. Originally diagnosed with Crohn's disease and sent home to live with the excruciating abdominal "attacks," Steward became convinced her daughter had been misdiagnosed. Uncovering the truth behind the illness, however, was a nightmare. Fourteen years passed before Melissa was properly diagnosed, yet a mere four-hour surgery relieved her daughter of the agonizing condition. Steward now dedicates much of her life to ARD awareness.