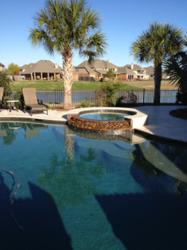 Houston, TX (PRWEB) May 15, 2012
Manning Pool Service, a Houston-area pool company offering more than 50 years of combined experience, is committed to ensuring that customers get the most from their swimming pools. By giving tips and advice to customers on how to properly maintain a pool, customers will be able to enjoy their pools all summer long.
The professional pool experts at Manning Pool Service have a wealth of information about all aspects of pool maintenance and ownership. The first thing they recommend is to stay on top of pH level balancing and chemical testing. These two things are essential parts of keeping a pool clean and free from algae and bacteria. Incorrect chemical levels not only affect the pool water, but can directly cause equipment failure.
If a customer has any questions about maintaining the pH and chemical levels in their pool, Manning Pool Service will be more than happy to help. In addition to their expert advice, they offer a full selection of pool chemicals and will help find what is best for each customer's individual situation.
After checking the pH and chemical levels of a pool, Manning Pool Service recommends having all pool equipment and machinery evaluated during the spring months. The cold winter weather can often cause problems for the pumps and filters that are essential parts of any pool system. Manning Pool Service can check these parts to ensure that they are running properly and ready to provide a full summer's worth of enjoyment.
The final pool maintenance tip Manning Pool Service would like to share is how to keep a pool clean. They suggest regular leaf and debris removal, which will not only keep the pool looking nice, but will keep objects from getting lodged in the filter area. Also, brushing the plaster and tile will give the pool a like-new look. As always, Manning Pool Service is ready to help with all of these maintenance tasks and more.
About the company:
With more than 50 years of collective experience, Manning Pool Service is the swimming pool maintenance and pool repair & pool equipment sales, that Houstonians trust. Their trained technicians offer extensive expertise and a dedication to customer service, bringing you cost-effective options. Whether you have a private pool or run a larger community pool, Manning Pool Service can help. Call Manning Pool Service today at (713) 812-9098 to schedule a technician's visit to your location to learn about your needs and prepare a custom estimate. For more information about their services, please visit their website at http://www.manningpoolservice.com.