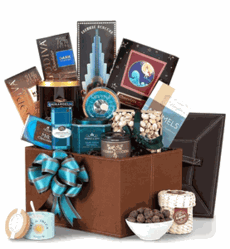 We anticipate our chocolate-themed gift baskets will be top-sellers this year.
San Francisco, CA (PRWEB) May 11, 2012
My Gift Basket Ideas, Inc. purveyor of Mother's Day gift baskets, announces one more reason for enjoying chocolate-themed gifts this year.
An official study conducted by the European Society of Cardiology (escardio.org) found that flavanols from cocoa boost the body's supply of nitric oxide, which helps to lower blood pressure when eaten in moderation as part of a balanced diet.
A spokesperson from MyGiftBasketIdeas.com said, "We welcome the results of this study. The mood benefits of consuming moderate levels of chocolate has been well-known for years. We've also seen studies that show eating chocolate can reduce stress, increase endorphins and even help manage depression in some cases. Confirmation from an official health body that consuming chocolate can help lower blood pressure is wonderful news for chocolate fans this Mother's Day."
The spokesperson continued, "Dark chocolate is thought to be the most health beneficial type to nibble on. Why not buy mom a Belgian Chocolate Gift Basket, laden with immune-boosting anti-oxidant rich dark chocolate?"
"Or perhaps for a real once-in-a-lifetime ultimate milk chocolate experience, you could splash out on a delectable Swiss Lindt Chocolate gift basket, which is reduced by 18% especially for Mother's Day. If mom more a fan of white chocolate, we have that covered with our creamy White Chocolate Gift Basket."
When asked to comment on the availability of its chocolate-themed gift baskets, the spokesperson confirmed, "We anticipate our chocolate-themed gift baskets will be top-sellers this Mother's Day. Shelves have been restocked accordingly, but customers are advised to visit our website soon and place orders early in plenty of time for Mother's Day, which is on May 13th this year."
"What better way can there be to help mom relax this Mother's Day than with scrumptious chocolate-themed gift baskets like those found here? Saying 'thank you for all you have done' has never been so delicious – or health advantageous!"
To browse the site's selection of mother's day gift baskets, including many chocolate ones, go to http://mygiftbasketideas.com/holiday-mothers-day-gift-basket.html.