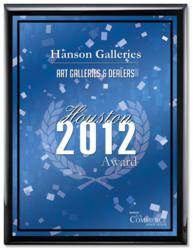 Houston, TX (PRWEB) May 01, 2012
For more than 30 years, Hanson Galleries has stood as a multi-faceted art gallery of Houston's small business community, and for the second time, the US Commerce Association is recognizing the outfit for all of its many local contributions.
Based out of New York, the US Commerce Association, or USCA, is an advocate for small to medium-sized companies and businesses throughout the United States. Holding true to their motto that "supporting local business is good business," they annually select companies that they feel exemplify their mission to make a difference, and they have once again chosen Hanson Galleries to receive this honor.
The USCA searches across the entire nation for small businesses that go out of their way to enhance the positive image of small business in general. These businesses epitomize the success and community involvement that makes small businesses such a valuable part of America's commercial sector. Only those companies that show a steadfast commitment to the overall wellbeing of both their customers and the community are recognized by the USCA, and Hanson Galleries is an excellent example of this commitment.
Hanson Galleries was first given the "Best of Local Business" award in 2010, and after receiving that honor, they showed no signs of slowing down. 2012 marks their second commendation in the "Best of Local Business" art category. Hundreds of companies throughout the nation are considered for this prestigious award each year, and Hanson Galleries is honored to have received it twice.
Despite this recognition, Hanson Galleries is always looking for ways to improve their service to customers and their local community in the future, and they are looking forward to many more successful years.
About the company:
Hanson Galleries earned the honor of "Top Retailer of American Crafts in 2010" in the USA given by NICHE Magazine. They opened in 1977 featuring handcrafted furniture and wood items, but are not a multi-media crafts business offering up-scale gifts and fashion accessories from American artists. They have been awarded many other local and national awards over the years. Throughout their 36 years they always featured artwork of the highest quality and craftsmanship. They pride themselves on their selection, and often people will say "I will be happy with anything from Hanson Galleries!" The friendly and knowledgeable sales staff helps customers select that perfect gift from items created by over 400 artists. When in Houston, visit them at either of their two locations: the newest location in Centre at Post across Westheimer from Neiman Marcus or their gallery in the Memorial City Mall. Come by and see why Hanson Galleries is known as the "I wish I had come here first" store. Their website also features many of their wonderful pieces. View these pieces, and find further information about the galleries at http://hansongalleries.com.
Hanson Galleries
5000 Westheimer Suite #106
Houston, TX 77056
713-552-1242