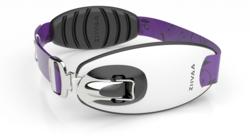 This is a truly powerful thing to be a part of, everyday I see how Ziivaa helps more and more women.
Sarasota, FL (PRWEB) May 08, 2012
Ziivaa, LLC has been awarded a utility patent on its Ziivaa™ menstrual relief belt by the United States Patent and Trademark Office. The device uses Adjustable Compression Technology™ to solve the age-old problem of menstrual cramping and discomfort. The device is a non-invasive, drug-free solution that works in minutes.
For many women menstrual pain can affect their employment, family, social and athletic aspirations. Cited by the U.S. Library of Medicine as the number one cause for missed school and work for girls and women in their teens and twenties, it is estimated that in the U.S. alone over 140 million work hours are missed each year due to period pain.
While the degree of debilitation varies, the struggle to find a solution without adverse side effects seems to be an even bigger challenge. Ziivaa works quickly, is worn for only 15 minutes per treatment, and is a safe and natural solution. "This is truly a powerful thing to be a part of, everyday I see how Ziivaa helps more and more women," said Dr. Stephen Lee.
The inventor of the Ziivaa belt is Dr. Stephen Lee, founder of Lee Chiropractic and Chiropractor to the MacDill Air Force Base. Dr. Lee graduated from Auburn University with a Bachelor of Science degree and graduated with honors from Life University in Marietta, GA with his Doctor of Chiropractic degree.
Dr. Lee first introduced the concept for this product in his practice in 2003. Satisfied with the results, he approached the internationally renowned studio ROBRADY design to be the product's development partner.
ROBRADY design, founded by Robert Brady, is a multi-disciplinary product design and development studio. Firmly convinced of Ziivaa's commercial and consumer potential, Robert Brady decided to make the venture a cornerstone of the newly formed ROBRADY capital division.
Ziivaa, LLC also has several other U.S. and international pending and allowed patent applications. Visit http://www.ziivaa.com for more information.