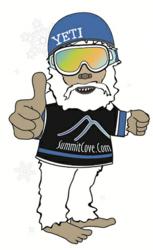 Keystone, CO (PRWEB) May 10, 2012
Frequent visitors to Keystone, Colorado can take advantage of a newly released guest loyalty program with SummitCove Vacation Lodging. The program has been named "Yeti Stars" as a nod to the company mascot. Yeti Stars will be introduced in mid-May in time for Summer 2012 reservations. Special discount vouchers will be mailed to visitors that have stayed with SummitCove a minimum of four times. Vouchers will be made available to visitors twice per year.
Guests who qualify will begin receiving notifications this week, along with their first coupon for $50 off their next reservation for Keystone lodging booked through SummitCove. Members of the Yeti Stars Loyalty Program may book reservations as early as Friday, May 11th using their discount voucher. SummitCove vacation planners will be available to create the VIP reservations over the phone 7 days a week for vacation dates through December 8, 2012 after verifying that the caller qualifies for the discount. The voucher may be used with other promotions, however it is only valid for new reservations made over the phone. Yeti Stars discounts will not be applied to reservations booked online.
About SummitCove Vacation Lodging
SummitCove is the largest independent property management company in Keystone, Colorado, managing approximately 300 properties with a wide range of vacation lodging options in all sizes and budgets. Most properties also include full kitchens, flat screen televisions, fireplaces, and access to area amenities and activities.