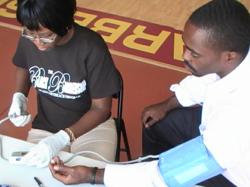 Los Angeles, CA (PRWEB) May 03, 2012
Redding Barbershops have joined forces with the Black Barbershop Health Outreach Program (BBHOP) to conduct diabetes and high blood pressure screenings on Saturday, May 12th, 2012, from 11am to 4pm.
Participating barbershops will provide the platform for volunteers to educate, screen and refer African American patrons; encouraging them to become more aware of cardiovascular diseases and how to prevent them.
Eddie McAlliter has been at the helm of Redding area efforts--showing remarkable dedication as city coordinator for the program. He has worked tirelessly to mobilize dozens of volunteers and secure a multitude of corporate and online media partners to further promote the programs call to action.
The Black Barbershop Health Outreach Program has a unique, grassroots approach to health screening and education. Led by Dr. Bill J. Releford, D.P.M., founder of The Diabetic Amputation Prevention (DAP) Foundation, his leadership has taken the Black Barbershop initiative across the country to impact the lives of African American men, helping them to better understand the health issues that plague their community.
"The need to address health care disparities in African American men is paramount in light of the fact that they have the lowest life expectancy of any group in the U.S.," said Dr. Releford a podiatric surgeon. "For decades, the black barbershop has served as a centralized gathering place where African American men feel comfortable discussing the most important issues that impact their lives: politics, social trends, family and finances. Now, we are introducing an important discussion of health and the critical need for health awareness."
Recent figures show African American men are 30% more likely to die from heart disease than White men, according to the Office of Minority Health - an arm of Health and Human Services, a federal agency. Also, African American men suffer from prostrate cancer at a level that's more than twice the mortality rate for any other racial or ethnic group in the U.S., according to the CDC.
Through black-owned barbershops, which represent a cultural institution of familiarity and trust, the outreach program has adopted a novel means to spread health information. Over 30,000 African American men have been screened in 23 cities, including New Orleans, Chicago, Atlanta, St. Louis, Washington, DC, Baltimore and California since 2007 when the outreach program was launched. The ultimate goal by 2014 is to screen more than a half-million African American men.
State-wide partners of the BBHOP include Anthem Blue Cross and Medtronics. Both are leaders in the health care industry with Anthem providing affordable health care coverage in the state of California and Medtronics serving as the go-to resource for medical technology development. The outreach program is also happy to have the support of community and media partners which include: Alpha Phi Alpha Fraternity Inc., Shasta College, Mercy Medical Center-Redding, Shasta Coalition of African Amercians for Community Health, Education and Empowerment (S.C.O.A.C.H.E.), and the National Association for the Advancement of Colored People (NAACP).
Since 2007; nearly 750 black-owned barbershops have participated in the program. This year the Brox Barbershop will serve as headquarters for screenings in Redding, located at 901 Lake Blvd, Redding, CA 96305.
To learn more about the health outreach effort, and to view a complete list of those barbershops involved, please go to http://www.BlackBarbershop.org.
About Anthem Blue Cross
Anthem Blue Cross is the trade name of Blue Cross of California. Anthem Blue Cross and Anthem Blue Cross Life and Health Insurance Company are independent licensees of the Blue Cross Association. ® ANTHEM is a registered trademark of Anthem Insurance Companies, Inc. The Blue Cross name and symbol are registered marks of the Blue Cross Association. Additional information about Anthem Blue Cross and Anthem Blue Cross Life and Health Insurance Company is available at http://www.anthem.com. Also, follow us on Twitter at http://www.twitter.com/healthjoinin, on Facebook at http://www.facebook.com/HealthJoinIn, or visit our YouTube channel at http://www.youtube.com/healthjoinin.
About Medtronic
Medtronic, Inc., headquartered in Minneapolis, is the global leader in medical technology –– alleviating pain, restoring health and extending life for millions of people around the world. Through our key businesses, we partner with medical professionals to develop life-changing technologies that improve the way chronic diseases are treated. While much of our work happens at the business level, we have several cross-business groups to help us leverage best practices, knowledge, and technologies across the company. Learn more at http://www.medtronic.com
About Dr. Bill Releford
As Founder of the Black Barbershop Health Outreach Program and the Releford Foot and Ankle Institute, Dr. Bill Releford is a visionary and industry pioneer. He began his private practice in 1990 and has dedicated his life's work exclusively to the reduction of diabetes-related amputations in high-risk populations. Dr. Releford and his efforts have recently been highlighted in the Los Angeles Times, The Washington Post, Newsweek Magazine, THE VIEW, THE DOCTORS, NBC Nightly News with Brian Williams as well as the TODAY SHOW and more. Additionally, Dr. Releford's innovative community organizing strategies culminated into an invitation from President Obama to attend the White House Super Bowl Party in 2011. To learn more about Dr. Releford and his work visit http://www.drreleford.com.
About the Black Barbershop Health Outreach Program
The mission of the Black Barbershop Health Outreach Program is to increase public awareness about health care disparities in under-served communities through culturally specific education, research and community based programs. Our goal is to empower the African-American community to better understand various diseases, their complications as well as the standard of care they deserve as it relates to prevention and management. The primary objective of the Black Barbershop Health Outreach Program is three-fold: 1. SCREEN: Cardiovascular Disease (diabetes and hypertension) 2. EDUCATE: Preventive education about diet and exercise as well as education about the signs and symptoms of common chronic diseases. The "PEP Talk" or Prostate Education Program will inform men about their choices in prostate cancer diagnosis and treatment. 3. REFER: Through the "Real Black Book/Medical Resource Guide," men will be referred to local health care providers that offer free or low-cost health services. For more information on participating or sponsorship opportunities, please visit http://www.blackbarbershop.org