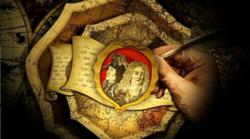 Sometimes humorous, mostly poignant and always unconventional their cinematic portfolio is enchanting... evocative... and most importantly, enduring.
—Sara Rhodes, BPA Creative Director
Santa Monica, CA (PRWEB) May 04, 2012
cyberia media has collaborated with Bruce Porter & Associates for the sixth consecutive year to produce creative content for the RSA Conference, the world's largest security event, held annually at the Moscone Center in San Francisco. cyberia media made 17 videos and ancillary media content to illustrate this year's theme, "The Great Cipher: Mightier Than the Sword."
RSA Conference wished to open its event with a historically themed video depicting the strength of collaboration against seemingly unbeatable odds. In creating the event opener, cyberia media paralleled the story of The Great Cipher – an unbreakable code, created by the Rossignols for the French Crown – to RSA Conferences present day strategy. cyberia media employed their signature process, producing a dynamic amalgam of original art and live footage, using 2.5d motion graphics.
cyberia media filled the Keynote hall screens with content for all 4 days of the conference. For the 16 subsequent videos, productions ranged from live shooting to Flash animations to After Effects motion graphics. The multi screen media was designed and produced for three 35' screens flanked by two 80' scenics. The conference travels to China this summer, then England in the fall.
"cyberia media has elevated the RSA Conference to greatness during the six years that they've built rich, entertaining stories for the conference's brilliant audience. They embrace the art of visual storytelling with respect, a keen theatrical eye and a commitment to truth and multidimensional detail that speaks universally. Any narrative piece that passes through cyberia – from simple interstitials honoring Edgar Allan Poe or Alan Turing to epic historical sagas about the iconoclasts that created the RSA algorithm – becomes a timeless, extraordinary masterpiece. No one breathes life and magic into a story better."
— Sara Rhodes, Creative Director BPA
The RSA Conference is a cryptography and information security-related conference held annually in the San Francisco Bay Area. The RSA Conference started in 1991 as a forum for cryptographers to gather and share the latest knowledge and advancements in the area of Internet security. Since 1995, a theme has been chosen every year and predicated on a specific contribution or illustration related to information security. A story and design are developed and carried throughout the event.
For the 2007 RSA Conference, cyberia media produced creative content on Italian cryptographer Leon Batista Alberti. In 2008, The Conference theme was mathematician and father of computer science, Alan Mathison Turning. In 2009, the focus was author and cryptographer Edgar Allan Poe. The 2010 RSA Conference focused on The Rosetta Stone. In 2011, the conference had a duel theme; Alice & Bob, bringing to life terms commonly used as placeholder names in cryptography, and also The Giants Among Us, which focused on the creators of the RSA Algorithm: Ron Rivest (R), Adi Shamir (S) and Len Adleman (A). Video for past conferences are viewable in the cyberia library at cyberiamedia.com.
cyberia is media
cyberia media is an award winning cross platform design and digital media studio focused on the business of content and creativity. Founded in 1993 by director/artist Richard Levine (The Smiths "How Soon is Now?" music video, Nike), cyberia media has worked for some of the largest brands in the world. It is a company known for its intelligence, originality and visionary creative, as well as its ability to tell a client's story in all media, for audiences of any size.
cyberia media's numerous awards include the prestigious Communication Arts 2012 Best Interactive Entertainment for their original Interactive children's iPad Book version of Treasure Island; 18 GDUSA American Design Awards (Design); W3 Award (Web Design and Development): Telly Award (Video design and Editorial); Addy Award (PSA, Directing). cyberia medias films have appeared internationally at venues including MOMA, NYC; Whitney Museum of Art, NYC; Berlin Film Festival; Centre Pompidou, and the National Modern Art Museum, Paris.
please visit us at cyberia media