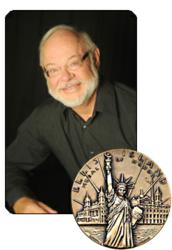 Minneapolis, MN (PRWEB) May 07, 2012
Honorees are Americans who exemplify outstanding qualities in both their personal and professional lives, while continuing to preserve the distinct values and rich heritage of their ancestors. They are recognized for their years of professional and business leadership and their contributions to America. They are honored among many other extraordinary individuals who have done so much good for America. This award signifies encouragement to Americans, that with hard work and perseverance they can also achieve the American dream.
The awards will be presented by the National Ethnic Coalition of Organizations (NECO), the largest organization of its kind in the U.S. The Ellis Island Medal of Honor is sanctioned by the United States Congress and entered into the Congressional record. The medals were conceived to pay tribute to the immigrant experience, remarkable individual achievements, and above all, the spirit that makes America unique among nations. NECO's mandate is to preserve ethnic diversity, promote ethnic and religious equality, tolerance and harmony, and combat injustice,
hatred, and bigotry.
Previous recipients of the Medal of Honor include senators, statesmen, athletes, major entertainment personalities, Nobel laureates, educators, business and religious leaders.
The Ellis Island Medal of Honor will be presented at a ceremony and gala black-tie reception in the historic Great Hall on Ellis Island. All branches of The United States Armed Forces traditionally participate in this spectacular event, as they herald the arrival of the honorees onto Ellis Island.
About Michael W. Allen, PhD
In his work ranging from projects funded by the National Institutes of Health, the National Science Foundation, Control Data Corporation, and his own companies, Allen's work has contributed to the first Internet-based solution demonstrated to reduce the spread of HIV, reduction in school gang violence, and academic success by those failing in traditional education.
Born in a rural Iowa town in 1946 to a one-room schoolhouse teacher and a farmer's son whose father lost nearly all his land in the depression, Allen found himself with the spirit of his dad's entrepreneurship and his mother's love of learning. It is this entrepreneurial spirit and love of learning which has fueled Allen's more than 40 years of research efforts to understand, invent and implement means of helping individuals achieve their full potential. His inspired mission has always been to help every person achieve his or her full potential through the creative use of multimedia technologies.
Michael Allen's custom e-learning studios at Allen Interactions have produced award-winning work for nearly 20 years and help employees of the most prestigious organizations achieve greater career success and mobility. Allen Interactions has developed, without charge, courseware for the "e-Learning for Kids" foundation – a global, nonprofit organization dedicated to "Opening Doors to Education Worldwide, through fun and free learning on the Internet for children ages 5-12. And seeing social needs also as business opportunities, Allen has used the proceeds from training work to advance technology-based learning systems for the benefit of all. In recent years, he has concentrated on defining unique methods of instructional application design and development that provide meaningful and memorable learning experiences through "true" cognitive interactivity.
Chairman and CEO | Allen Interactions and Allen Learning Technologies
Adjunct, Associate Professor | University of Minnesota
PhD, Educational Psychology | The Ohio State University
ASTD Career Award | Distinguished Contribution to Workplace Learning and Performance
Author | Seven books including a multi-volume series on designing meaningful, memorable, motivational learning experiences and three annuals on the state of the art in e-learning.
Accomplishments
Michael Allen was the principal authoring tools architect of Control Data Corporation's world-famous PLATO computer-based education system. He has become widely respected for his abilities to define, design, and build tools which allow creative individuals to harness the potential of interactive multimedia technologies.
He was the primary architect of Authorware Professional, the founder, and former chairman of Authorware, Inc. Authorware Professional was based on Allen's extensive research on creativity and creative problem-solving and resulted in this ground-breaking authoring tool of both power and ease of use, which held, by far, the dominant market share (Dataquest) for over a decade. But most importantly, it facilitated development of instructional programs that have benefited learners around the globe. Authorware, Inc. merged with Macromind/Paracomp to become Macromedia, which was later acquired by Adobe for a purchase price of $3.4 billion.
Allen is once again determined to conquer the perplexing idiosyncrasies and complexities of interactive media so that all people can share their knowledge, experience, and insights through it. Just recently coming to market, ZebraZapps (Zebra), a revolutionary cloud-based authoring and publishing platform, allows anyone to create and deploy unique and compelling e-learning and interactive multimedia easily, and in a way that nothing else can.
Michael Allen has published seven books, including a best-seller on creating effective e-learning, a series on designing meaningful, memorable, motivational learning experiences and three annuals on the state of the art in e-learning.
He was the founding editor of the Journal of Computer-Based Instruction, sponsored and published by the Association for the Development of Computer-based Instructional Systems (ADCIS). After many years of service in this position, Allen was named Editor Emeritus for the publication. He was elected president of the international ADCIS twice and has received many association awards and commendations.
Allen is a frequently requested conference speaker at associations including The American Society for Training and Development (ASTD), the e-Learning Guild, and various ASTD chapter conferences held across the United States. In May 2011, Allen received ASTD's Distinguished Contribution to Workplace Learning and Performance Award.