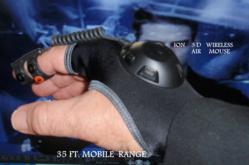 Innovation starts with one Dream one What If?
Merritt Island, Florida (PRWEB) May 08, 2012
For all computer users that want to sit back comfortably and control the big screen computer, this mouse may be a perfect fit. The new 3 D Ion wireless air mouse glove has a mobile range of 35 feet and controls the computer cursor with the movement of your hand. The setup is simple and does not require any software downloads. Plugging in the mini USB module and turning on the 3 D Ion wireless air mouse glove is all it takes.
The 3 D Ion wireless air mouse glove operates with Windows, Mac, Linux and Android. For anyone that would like to turn the big screen TV into the computer monitor, just connect your computer to the TV through a HDMI cable.
"Sometimes an innovation starts with a dream, or a need, or maybe a 'what if'," says Pete Bell, founder of Bellco. "To all the innovators out there keep dreaming and keep asking 'what if', because that one dream could become tomorrow's big success," said Bell.
Bellco is in the developmental stages of its new designs using radio frequency technology for the air mouse. With computer users looking for a more mobile and comfortable experience, Pete Bell of Bellco says this type of technology will continue to evolve.
The Ion 3 D Wireless Air Mouse Glove is Available now for $79.95
For more information go to: http://www.3dionwirelessairmouse.com