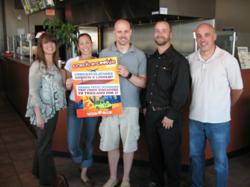 My wife and I consider this the trip of our dreams and are ecstatic! - Grand Prize Winner, Andrew
Surrey, BC (PRWEB) May 16, 2012
Wok Box, one of North America's fastest growing quick service Asian restaurant, is pleased to announce the Grand Prize winner for its annual Crack-A-Cookie promotion held from January to March this year.
The Grand Prize winner is a teacher from London, ON. He and his wife will be whisked away to an adventure vacation from Singapore to Thailand with G Adventures Travel & Tours.
"We are very excited about this trip. It'll give the winners an opportunity to experience Asia in all its charm and excitement. No doubt this will be an adventure that can enrich their experiences in the region" says Ray Ho, Marketing Director.
Other additional contest prizes were added this year as well, including Kobo Vox eReaders, iPod Nanos, and Wok Box gift cards. To make it more interactive, customers visiting the restaurants over the promotional period got to crack fortune cookies with food prizes in them.
About Wok Box
Wok Box specializes in freshly cooked, quick and healthy Asian cuisine. Its menu focuses on serving Stirfry Noodle Boxes, Rice Boxes, Curry Boxes, Soups and Appetizers that are inspired by a wide variety of Asian influences, using fine authentic spices and high quality ingredients. It offers a contemporary dine-in atmosphere, as well as distinctive Asian boxes for take-out services. Wok Box opened in 2003 and currently operates nearly 60 locations in Canada. It will be starting its US locations in Oregon and Arizona in the first half of 2012.
For more information, please visit wokbox.ca
Follow us on Twitter @wokbox
Like us on Facebook