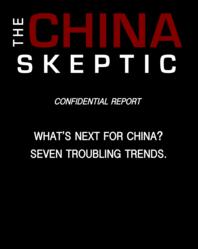 I have been traveling to China for more than three decades, but never have I seen a Chinese leadership so concerned about the country's economy and future.
San Francisco, CA (PRWEB) May 01, 2012
Troubling signs are appearing about China's weakening economy and rising political turbulence.
Seven Troubling China Trends is a special 45-page investment report that ties all of these fragments together in a compelling story backed by hard facts, expert opinion and on-the-ground research.
This special report goes well beyond the "soft landing" - "hard landing" debate and includes twelve monthly China Skeptic Advisor updates so you can monitor how these seven trends unfold.
Based on confidential sources plus 26 years of experience following Asian economic and political trends, Carl Delfeld explains how these trends point to what could become the most significant crisis of our time.
In short, while the timing is uncertain, these seven trends point to the growing probability of a "worst case scenario," making this a "must read" by investment professionals investing in China or Asian region.
Here is just a taste of what you will discover in this report:
Why offshore markets for blue chip Chinese corporate bonds are now demanding a huge premium in yields.
Growing signs of the enormous and growing frustration by the Chinese people against the political/business elite.
Why hopes of a consumer boom in China are fading fast.
A step-by-step worst-case scenario for China.
The inside scoop on the political turmoil within the leadership of the Chinese Communist Party and why reformers are too few and too late.
Why China's primitive and complicated financial system and state-owned banks are leaking oil.
How the calculus between western multinationals and China's government that has fueled China's growth has changed dramatically.
Why the Bo Xilai drama is just the tip of an iceberg.
Why Mexico, rather than China, is increasingly seen as the lowest cost manufacturing platform for companies selling into North and South America.
More information is available at http://www.ChinaSkeptic.com
Please note that you will receive with this special report 12 monthly China Skeptic Advisor updates on how these seven trends unfold.
About the Editor of Seven Troubling China Trends
Carl Delfeld is a Forbes Asia columnist and managing director of Chartwell Partners. He was a corporate banker covering Asia with First Boston, executive director of Asia-Pacific as vice president with Robert W. Baird & Company and picked stocks for Julian Robertson's hedge fund, Tiger Management. He was also an advisor on Asia and emerging markets with the U.S. Senate Finance Committee and U.S. Treasury.
Carl was next appointed by U.S. Treasury Secretary Nicholas Brady to the Board of Directors of the Asian Development Bank in Manila, Philippines. He was then appointed to the U.S. National Committee on Pacific Economic Cooperation and is the founder of Pacific Rim Confidential.
Carl earned a Masters degree in economic diplomacy and Asian diplomatic history from The Fletcher School of Law & Diplomacy after a degree from the University of Wisconsin in economics and oriental studies with study at Sophia University in Tokyo, Japan where he served as a stringer for The Economist.