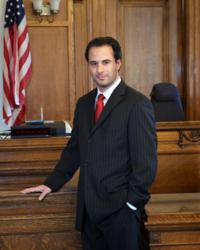 I'll Take Care of It!
Denver, Colorado (PRWEB) May 02, 2012
Super Lawyers is a rating service of outstanding lawyers that is given out to the state's top 2.5% of lawyers. Attorneys are asked to nominate the best attorneys who are 40 or under, or who have been practicing for 10 years or less. They nominate other lawyers they have personally observed in action — whether as opposing counsel or co-counsel.
This award comes on the heals of naming Attorney Rosenthal a Top 40 under 40, an award given out to Colorado's Top 40 Trial Attorneys Under 40.
Attorney Jeremy Rosenthal concentrates his practice on DUI, medical cannabis, and personal injury cases in Colorado. Upon request, he also takes cases in the New York City area and in Federal Court. Prior to forming the Law Firm of Jeremy Rosenthal, Mr. Rosenthal clerked for a Judge and worked for the insurance companies. Mr. Rosenthal went to college and law school in Colorado and resides in the mountains with his wife, daughter, and English Mastiff. When not fiercely advocating for his clients, you might find Jeremy hiking or canoeing through Colorado's rugged wilderness or playing tournament level no‑limit Texas Hold 'em Poker.
Jeremy can be reached most efficiently by contacting him at 303-825-2223.