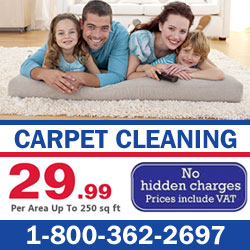 Why Guess? Pay Flat Rate for your Carpet Cleaning.
Sacramento, CA (PRWEB) May 01, 2012
The Green Carpet Cleaners, a carpet cleaning service provider is at the forefront again with more unique services. This time it is the introduction of organic cleaning techniques that not only ensures that you have the best of service, but also helps in the preservation of our already damaged environment.
Carpet cleaning services is one sure way of ensuring that you have a dust free home where germs and pests do not thrive. This is especially necessary when your home or office is such that receives high level of human traffic on daily basis. The truth is that when you make use of their carpet cleaning sacramento area services, you are contributing your quota towards the preservation of the eco system. This is based purely on the fact that the company's steam cleaning services utilizes a high level organic cleaning process that has never been equaled by any.
According to Mike Ben, owner of the company, "In order to ensure gentle and efficient cleaning of your carpets, we utilize the best grade of professional equipment which makes use of super-heated steam without adding any type of chemical based cleaning solutions"
You may be wondering what this company stands to offer you that is different from what other service providers in the same industry offer. For starters, for those advocators of "green" acts who are in need of draperies, upholstery and carpet cleaning at Flat Rate is what you need. Also, since they make use of the latest steam cleaning technology, they are able to draw out all deep set dirt that is found lodged in the fibers of your carpet. This process is efficiently carried out without causing a single damage to your carpet.
Unlike other companies that make use of chemical based cleaning solutions, this company only uses organic cleaning process which ensures that you don't experience any odors as is the case with most companies specialized in cleaning of carpets. Every cleaning solution used by this carpet cleaning services provider is water based which is not harmful to our environment. Mike went further to state that "this company believes that our planet can be revived again through safe practices which is why we introduced carpet cleaning techniques that use only water based solutions, believing that with a little orientation, people will come to understand the importance of protecting our planet even as we carry out our daily activities".
In all, making use of Green Carpet Cleaners services has a lot of benefits which includes:

Successful removal of dirt and grime from your carpet without damaging it
Utilization of safe cleaning practices while you clean your home
High quality services rendered at affordable rates
Helping to safeguard and replenish our already depleted ozone layer and environment in general
About the company:
Green Carpet Cleaners is a family owned carpet cleaning service provider that has been at the forefront of carpet, draperies and upholstery cleaning for more than 15 years now. All the professionals working under the company are duly certified by The Institute of Inspection, Cleaning and Restoration (IICRC). Their aim is to make sure that homes within and outside Sacramento and Davis area receive carpet, upholstery and draperies cleaning services at affordable rates without compromise in quality output.