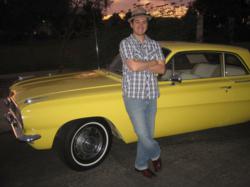 Over $4 million in commissions has already been paid and the team is growing extremely fast.
Phoenix, AZ (PRWEB) May 02, 2012
Empower Network is a six-month-old sales funnel that helps network marketers, internet marketers, and other online business owners drive traffic to their sites and capture pages and pays 100% commission. There is "work" involved and that "work" is blogging, where the prospect will be given a "Fast Start Training" with eight short videos. Those who have never blogged have nothing to worry about, as that person will learn to. $25 will just get a prospect in the door, $100 (more) will give that person more access to the "Fast Start Training", which gives prospects a Wordpress blog, and as for the other tools, they will be revealed in the short videos in the link.
The first event for Empower Network will be held in Atlanta on the 8th-10th of June and ticket information is available in the E.N. videos. Over $4 million in commissions have already been made, and the team is growing extremely fast. Among the things that sets E.N. apart from lots of other sales funnels and MLM companies is that the team doesn't waste its time chasing prospects; rather it's about prospects finding the leader, which is what Empower Network is made up of, because they're the ones who want to be lead to success. It's called "Leverage" or "Attraction Marketing", something many successful online entrepreneurs learn in Mike Dillard's "Magnetic Sponsoring."
Lawrence Tam, a top producer in Empower Network, said last week on Facebook, "It's official.... I am no longer a "paid" engineer... I am a full time marketer... Let me help you pave a path.... Everyone who has taken the vision to grow up and just be happy and free... free from chains of income restraints..."
Empower Network has grown so fast that it even caught the eye of Mike Klinger, a top recruiter in this industry. He criticized it for being "too money-driven", but not only has it continued to grow, but it also has gone global and it was also after that when the first event was planned. For more information on Empower Network, please click on the link below.