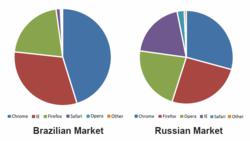 Chrome has about a 50% higher installation rate from their directories compared to Firefox
Alexandria, VA (PRWEB) May 02, 2012
The worldwide market shares by browser indicate that Internet Explorer still dominates overall (35%), with Chrome in the second most popular position (29%), and Firefox not far behind (24%). Safari (6%) and Opera (2%) complete the overall shares.
However, the market shares by browser vary greatly region by region. From the diagrams below you can see that in Latin America, Chrome is the number one browser, taking 45% of the market share. The situation is similar in Russia, where Chrome dominates the market with a 29% share.
Browsers such as Mozilla Firefox and Opera have made Add-ons a fundamental point in their strategy, which has helped lead Firefox to success and market domination in many markets. But Chrome is the most successful in this strategy, amplifying Extensions with Apps and transforming its Add-ons Gallery to the Chrome Web Store, which has proven to be a very successful channel of distribution.
According to a Besttoolbars market study, Chrome has about a 50% higher installation rate from their directories compared to Firefox. The Internet Explorer Gallery is in its infancy.
As a result, creating Chrome Extensions and Apps becomes crucial part of any marketing strategy for web apps and web services, due to its highly developed distribution channel and significant market share.
Learn more at http://besttoolbars.net/services/browser_addons_development/whitepaper/
About Besttoolbars:
Formed in 2003, Besttoolbars is known as the leader in toolbar software. Besttoolbars focuses on browser toolbar, add-ons and extensions solutions and also offers a toolbar and add-ons frameworks. Besttoolbars has created desktop products for leading Internet companies including AOL.com, Web.de, and Skype.com. More than 7000 companies worldwide use Besttoolbars solutions.