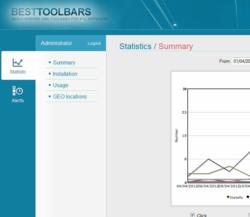 The Server was re-written from the ground up, and now includes long-awaited features
Alexandria, VA (PRWEB) May 09, 2012
Besttoolbars has released new version 2.0 of its popular Toolbar Server. The Server was re-written from the ground up, and now includes long-awaited features including:

Geographical data
Visual data presentation
Support for Browser Add-ons, Extensions, and Outlook Add-ins
Support for multiple Toolbars/Add-ons
One major improvement is that now Toolbar Server supports Browser Toolbars, Add-ons, and Extensions. Previous versions supported only Toolbars built with Besttoolbars ToolbarStudio. The new version additionally supports Browser Add-ons and Extensions built with Besttoolbars Add-ons Framework as well as all Add-ons built by Besttoolbars experts as a custom project.
Toolbar Server allows you to:
Track Toolbar statistics
Send Multimedia Alerts directly to the Toolbar
In addition, the upgrade adds new possibilities for tracking the performance of your Toolbars and Add-ons. All data is presented in an updated, more visual way, giving an instant overview of how your Toolbar is performing. The new Geographical data helps you understand in which regions your Toolbar performs best.
Learn more at http://besttoolbars.net/products/toolbar_server/
About Besttoolbars:
Formed in 2003, Besttoolbars is known as the leader in toolbar software. Besttoolbars focuses on browser toolbar, add-ons and extensions solutions and also offers a toolbar and add-ons frameworks. Besttoolbars has created desktop products for leading Internet companies including AOL.com, Web.de, and Skype.com. More than 7000 companies worldwide use Besttoolbars solutions.