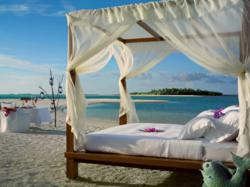 This hideaway island is so small that its length and width do not even measure up to one mile.
Middletown, PA (PRWEB) May 02, 2012
DecorSpark recently released a new blog post about the luxurious Kanuhura Resort, located in The Republic of Maldives, in the Indian Ocean. What's the catch? This is a private resort, making it the perfect travel spot for a private vacation, wedding or honeymoon, or just some genuine relaxation.
If by chance the perfect honeymoon is in mind, Maldives is the perfect way to unwind. Just take it from this wedding list fit for a King and Queen.
"The resort only accommodates up to 100 guests. They have the choice to stay in the Beach Villa, Duplex Villa, Grand Beach Villa, Water Villa, and the Grand Water Villa. The view of the ocean is simply to die for no matter where you stay."
Make sure to check out DecorSpark for more photos and information about this gorgeous resort.
The right location for a dream vacation, wedding, or just some relaxation is pivotal. If privacy, beautiful beaches, and a personal beach sound great then visit the Kanuhura Resort. For more stories about dream getaways and the best in interior design and home decorating, be sure to check out DecorSpark!
And don't forget to visit us on facebook!