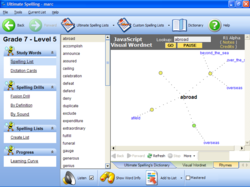 New York, NY (PRWEB) May 02, 2012
Following many high-profile public cries to engage children and get them spelling, Ultimate Spelling™ today announces their solution.
It's perhaps the ultimate young person's paradox: the love of playing games and the dislike of learning to spell. However, the creators of Ultimate Spelling™ believe that the two can easily be mixed to produce a solid learning experience.
This has resulted in Marc Slater, the Managing Director of the company behind Ultimate Spelling™, giving parents a challenge:
"We are calling on parents in the United States to play spelling games with their children. We believe this will make the process fun and capitalize on something that kids already enjoy doing," he says, commenting on the company's new public outreach strategy.
"Spelling improvement doesn't just have to take place to school. Home is perfect environment too, perhaps even better as the child is in their natural maternal environment," he adds.
The company is already known around the world for its innovative software, critically acclaimed to be able to improve spelling. Including games, challenges and other though-provoking tasks, the platform is believed by many to perfectly suit the parent-child learning relationship.
"We're aware that thousands of parents are always using software like ours to assist children with the improvement of spelling. However, the fun can take place at a much more simple level. Parents should consider making up spelling games for long car rides, the walk to school or even to be played during dinner," Slater adds.
The call comes at a time when thousands of children are preparing to enter themselves into local, regional and national spelling bee competitions.
With spelling seemingly more popular than ever, the team behind Ultimate Spelling™ could see huge success with their proposition.
More information about their software can be found at: http://www.ultimatespelling.com
******
About Ultimate Spelling™.
Ultimate Spelling provides a modern and easy to use spelling software that has been designed with one goal in mind – making children WANT to learn.
It is a fast and easy way to master even the most complicated spelling, without the need to write long lists or complete boring tests.
In fact, Ultimate Spelling provides more than just spelling help. It is a complete educational resource that boosts all level of a child's literacy.
Containing a personal computer tutor, Ultimate Spelling is the most realistic step-by-step guide to flawless spelling ability.