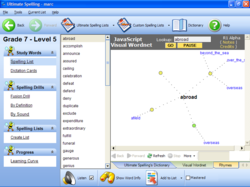 New York City, NY (PRWEB) May 01, 2012
In the post-recession world, not every idea has the potential to become a roaring success. The opposite can be said for the team behind Ultimate Spelling™, now leading the way with their spelling improvement software platform.
In just a few short years the company has grown from an initial idea to a market-leading modern success story. However, the man behind the concept doesn't let the success allow him to become complacent.
"Our initial idea was to create spelling improvement software that made children want to learn. We really had a desire to help others," says Marc Slater, Managing Director of the company behind Ultimate Spelling™.
He continues, "We have now grown the company to become world leaders in our field. However, we don't put the numbers down to us – but instead to the thousands of people around the world who have chosen to take a pro-active approach to online learning."
The company's software is already being used in thousands of homes, schools and learning centres around the United States and the world. By allowing children to inspire themselves to want to learn, the team believe they hit a very person home run with their customers.
"We are delighted that people are actively choosing to improve their spelling, and also investing in tools to help them do it. It's a true testament to the advantages that modern technology can bring to the youth of today," Slater adds.
The company actually set up shop 'down under' in Australia, quickly advancing to dominate the North American market as they released global versions of their products.
For more information, please visit: http://www.ultimatespelling.com
About Ultimate Spelling™.
Ultimate Spelling provides a modern and easy to use spelling software that has been designed with one goal in mind – making children WANT to learn.
It is a fast and easy way to master even the most complicated spelling, without the need to write long lists or complete boring tests.
In fact, Ultimate Spelling provides more than just spelling help. It is a complete educational resource that boosts all level of a child's literacy.
Containing a personal computer tutor, Ultimate Spelling is the most realistic step-by-step guide to flawless spelling ability.