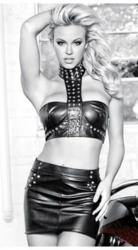 Save Animals wear Faux Leather
Las Vegas, NV (PRWEB) May 01, 2012
Our customers have asked for an alternative to leather. They love the look of leather, but shy away from wearing it. In recent years more and more women don't want to wear genuine fur or leather for ethical reasons . Our animal friendly material gives women a way to show support for animal rights. Therefore the new Faux leather collection offers the perfect substitute. All garments are all lined in luxurious red satin to provide a comfortable fit. Affordable garments that look and feel expensive.
Franz Schlienger the owner of Feeling USA lingerie states that there is a demand for these garments. Long gone are the times that only bikers are wearing leather. Today women like to wear edgy and fashion forward outfits to the club, concerts. and other similar events. Clothing that make a statement. Long pants, Capri pants, skirts and shorts that can all be matched with a corset top or bra. For each corset and bra top our customers will be able to choose the coordinating skirt, shorts or long pants.
Faux leather is essentially fake leather, Instead of being made of animal skins, these fabrics are made of 65% PVC, 30% Polyester, 5% Polyethylene, and treated to replicate the look of leather and some of its common attributes. There are different names for faux leather, and these include pleather and leatherette.
Feeling USA Lingerie is convinced that customers will fall in love with the new Kitten faux leather collection.
Needles to say that Feeling USA offers free shipping and special discounts up to 20%. The more you buy the more you save. For purchases under 100.00 there is a discount of 5%, over $100.00 = 10%, and over $200.00 = 20%.
Feeling USA Lingerie is committed to provide outstanding customer service and fast shipping. We have been in business since 1996, and always strive to bring new and innovative designs to our customers. The merchandise is not only distributed within the US, but worldwide.