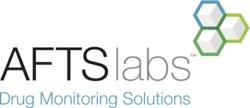 AFTS Labs is committed to working with the community to combat the prescription drug abuse epidemic
East Northport, NY (PRWEB) May 02, 2012
Oral fluid drug testing is a very significant advance in prescription/illicit drug monitoring as it provides an efficient, non-invasive and directly observable collection method. AFTS Labs in East Northport, NY is a premier, full service laboratory that specializes in providing drug testing services to medical offices, substance abuse clinics and law enforcement agencies across the country.
Accurate drug testing is needed more than ever. As prescription drug abuse continues to escalate beyond control, technology is needed to stem the tide of this epidemic. "At AFTS Labs, we are committed to continuing to work with physicians and the legal community to combat this growing problem," says Dr. Richard Stripp, CEO and Chief Toxicologist at AFTS Labs.
Oral fluid drug testing is the ideal complement to the more commonly used urine drug testing. The collection of oral fluid is a very straightforward process as an observed collection of a specimen can be accomplished in minutes, eliminating the chance of sample adulteration or the intentional tampering of a sample by the donor to avoid detection of drug use. Oral fluid drug testing is a highly significant development in prescription/illicit drug monitoring that can reduce the potential for sample adulteration. Furthermore, oral fluid drug testing provides information regarding what's in the person's blood at the time of the collection.
Oral fluid drug testing also offers immediate, anytime/anywhere sample retrieval capability. Oral fluid testing is ideal for clinicians, employers and law enforcement agencies because it is a non-invasive, donor friendly sample collection process. AFTS Labs utilizes an oral fluid collector with an easy to read volume indicator to assure that a proper sample has been obtained. Simple, easy to read reports are available for review within 24-48 hours of receipt of the sample. The highly trained professional staff at AFTS Labs is always available to provide answers to questions about the drug testing protocols or patients' test reports.
AFTS Labs is committed to empowering the public with information about ways to detect drug abuse by using the most sophisticated equipment and technology available to confirm and quantify drugs in oral fluid. Oral fluid drug testing provides doctors, employers and law enforcement agencies with a safe, easy alternative to combat the prescription drug abuse epidemic in our country today.
AFTS Labs specializes in providing clinical oral fluid and urine drug testing for the substance abuse, pain management and forensic industries. AFTS Labs is recognized as the premier facility for reliable results and clinical drug testing services.
For more information on the company visit http://www.aftslabs.com or to become a customer, contact Cristen Cuomo at Ccuomo@aftslabs.com or 888-214-8444.
###