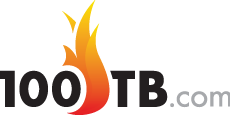 ...we are committed to providing the latest in cutting-edge technology, speed of deployment, and server specifications.
SALT LAKE CITY, UT (PRWEB) May 01, 2012
100TB is excited to announce an extensive redesign of their website, which in addition to the new look, includes a complete overhaul to server specifications and enhanced services. With its sights set firmly on dedicated, cloud, and CDN users, 100TB has been a pioneer in offering a reliable, high bandwidth solution to a wide-range of clients.
100TB has revamped the current Ember, Flame, and Inferno server line-up to include the latest cutting-edge server specs at jaw-dropping prices. Starting at $201.15/month, the Ember features the popular new Xeon E3-1230 processor, 8GB RAM, 2 x 1TB Hard Drive, 1 Gbit Dedicated Port, and of course 100 terabytes of bandwidth. The Flame & Inferno line-up also provide enhanced specs for more processing power. All servers are backed by a 24x7 world-class support team that can be reached by phone, live chat, or ticket.
The new design builds upon the success of their best-in-class 100TB network that has garnered the attention of high bandwidth business users across the globe. This robust network includes data center locations in Seattle, San Jose, Dallas, Salt Lake City, Washington D.C., London, Amsterdam, and Singapore. Besides offering eye-catching aesthetics, the site is easy to navigate and offers more flexibility for clients to customize a server to match their individual needs.
"We deliver the latest in innovative technology, powerful specs, and flexibility. These have been key components to our ongoing success, in addition to our renowned 100TB network," said, Thomas Hancock, Managing Director, 100TB.
100TB has seen tremendous growth through organic methods, including word of mouth, and referrals from existing clients. In an effort to further enhance this strategy the new site features the latest in social media tools so clients can interact with 100TB and share the services more easily with friends and colleagues. 100TB has also made improvements to its vast Affiliate network with higher pay-outs and improved conversion strategies. In addition, 100TB has formed strategic partnerships with companies to increase its public profile across a broad range of industries. A recent example of this is 100TB's partnership with the Marussia F1 Team which is off to its best start ever on the professional racing circuit.
Leaving no stone unturned, 100TB has developed a new on-demand automated platform that delivers a faster provisioning and deployment time on all dedicated servers. With the new automated system a server may be provisioned and deployed in a matter of minutes, while more advanced customizations are provisioned in a short 1-2 hour window in most cases. This fast deployment time underscores the forward-thinking approach taken by 100TB in the new design.
"As we look at the changing demands in today's business climate we are committed to providing the latest in cutting-edge technology, speed of deployment, and server specifications. We recognize that we must always be looking for ways to stay ahead of our competition and provide clients the solutions they need to be successful," said, Hancock.
ABOUT 100TB
The originator of 100TB (http://www.100tb.com) dedicated servers, 100TB offers the latest in high power and high performance dedicated server hosting. Through our global network of on-demand data centers we provide dedicated & cloud servers to clients across the globe and are committed to providing innovative and powerful hosting services. Our technology is backed by the best-in-class network equipment and server hardware and we offer world-class 24 x 7 support. 100TB is part of the UK2 Group which has over 14 years' experience in web hosting and domain names. The UK2 Group is a global group of web hosting brands, and has provided web hosting and internet services to consumers and business alike since 1998.