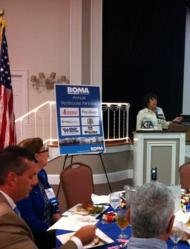 If you think professionals are expensive, try hiring an amateur—Red Adair
Orlando, FL (PRWEB) May 01, 2012
As the economy warms and companies consider facility upgrades and expansion, it's time for business owners to think about the costly pitfalls that often arise in working with contractors. "Contracting Confidential," a comprehensive training program created by licensed contractor and consultant Kia Ricchi, explains how to find and work effectively with contractors—saving time, money, and a lot of unnecessary stress.
"Construction projects are notorious for costing more and taking longer than expected. From incomplete blueprints to unqualified contractors, the reasons for project shortcomings are numerous," says Ricchi. To help avoid these expensive hazards, Ricchi educates business owners about important topics such as scope of work, contractor licensing, insurance, contracts, permits, bonds, and liens. Providing both corporate learning and consultation, Ricchi's work has been recognized by notable organizations such as the National Association of State Contractor Licensing Agencies and the Building Officials Association of Florida. She has presented at national events such as the International Restaurant and Food Service Show and the Florida Restaurant and Lodging Show. And because franchise and facility managers often hire contractors for remodels and repairs, Ricchi has presented informative sessions to Building Owners and Managers Association (BOMA), International Facility Management Association (IFMA), and Community Associations Institute (CAI).
"Without question, when you're on the customer side of a construction project, the process can be overwhelming. From defining your project to finding competent contractors, there are numerous steps that must be correctly performed," says Ricchi. "Contracting Confidential" is a step-by-step program that helps owners understand the construction process and the roles of contractors, architects, insurance agents, and construction attorneys. For a sample training video, articles, and podcasts, visit http://www.TheContractress.com.
Ricchi is a Florida licensed contractor, consultant, and author of Avoiding the Con in Construction—winner of three national book awards and included in the Library Journal's "Best of" list. She is a contributor to NPR affiliate stations, Remodeling Magazine, and FineHomebuilding.com, and is quoted in TheStreet.com, Inman.com, and MoneyPit.com. Together with her team of experts, Ricchi consults and educates professionals from various industries, with a special emphasis on construction contracting practices and risk assessment.