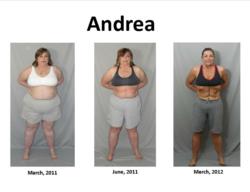 All the coaches where very kind, helpful, supportive, and they were more than eager to answer any and all of my questions
Omaha, NE (PRWEB) May 03, 2012
Andrea Ayres, a student at Farrell's eXtreme Bodyshaping in Omaha, Nebraska, has lost over 100 lbs in one year by following Farrell's program and was recently awarded $1,000 for her transformation. Every ten weeks, each Farrell's location awards a $1,000 prize to the student with the biggest overall transformation. That adds up to $41,000 in awards throughout the Midwest every ten weeks. In addition, all students are eligible to enter to win a nationwide contest for $10,000 for the biggest transformation over a full one-year period.
Andrea was able to loose 101.5 lbs, to be exact, simply by following the Farrell's program which includes 3 days a week of cardio kickboxing, 3 days a week of strength training and a simple nutrition plan. Farrell's Ten Week Transformation Program is exactly what Andrea needed to jumpstart her goal of healthy living.
"I could not do a jumping jack or squat and felt very uncoordinated," Andrea said about her first day at FXB. "All the coaches where very kind, helpful, supportive, and they were more than eager to answer any and all of my questions I had about my food and my form on the mats. Even though the next few weeks where a big blur to me, I couldn't wait to get up each morning and go. I was beginning to love this FXB thing!"
As the weeks passed, Andrea noticed her clothes were getting too big and people began asking her if she was loosing weight. During her next ten weeks as a FIT Student, she went on to win the FIT Competition.
"I wasn't about to stop at 10 weeks, I couldn't afford not to rejoin. It's now been one year into the program and it has transformed my body, health, mind and self-esteem. I am half the size I was when I joined, dropping 8 pant sizes!" Andrea said. "I can't tell you how many total inches I've lost, and I've reached my goal to be healthy by the age of 50. It seems I've come full circle – I love it here and I'm excited to be here every day. I want to give back to the new students what my coaches did for me."
Andrea's story continues today. She is an inspiration at the gym and has even begun coaching to help others with their transformation. Omaha Northwest Farrell's location is very proud to call her a student and they are constantly amazed at the life-changing ability of helping people lead healthy lifestyles.
Andrea will have to wait until December to find out if she will win this year's $10,000 prize, but regardless, she has a lot to be proud of!
About Farrell's eXtreme Bodyshaping:
Farrell's eXtreme Bodyshaping is a results-based fitness program for participants of any age, life-style, sex or athletic ability. Since Farrell's inception in 2001, over 40,000 lives have been transformed. Classes run for 45 minutes a day, six days a week for ten consecutive weeks. At the end of each 10-week session, one participant from each location is awarded a $1,000 prize for the most dramatic transformation. That is $41,000 in awards given out throughout the Midwest every 10 weeks!
To see what others are saying about Farrell's eXtreme Bodyshaping, visit http://www.extremebodyshaping.com/news.html or on YouTube at http://www.youtube.com/extremebodyshaping
For information about the Farrell's eXtreme Bodyshaping 10-week Challenge or to find the Omaha Area location closest to you, visit http://www.joinfxb.com
Media Contact:
Wayne Lewis
Farrell's Extreme Bodyshaping
WayneLewis(at)extremebodyshaping(dot)com
402-812-7396