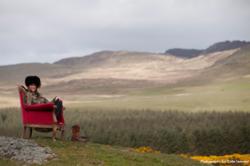 (PRWEB UK) 22 May 2012
Installation artist Alice Francis is set to question social convention as she transforms a traditional Galloway cottage into an oversized sofa with the help of Plumbs Loose Cover Specialists. The project comes as part of the annual Spring Fling: Scotland's premier art and craft open studios event.
Conventionally named 'Couch', the project is far from ordinary, with Alice enlisting the help of loose covers specialists Plumbs to create a made-to-measure cover for the entire exterior of the building. The chosen fabric for the piece is an archetypal, floral design set on a stretch fabric. A typical choice often found inside a traditional, rustic cottage.
The aim of the temporary piece is, as Alice explains, to flout conventional expectations:
"I want to encourage people to question appearances, and perhaps shake off the conventions that we all get stuck with. Taking something that would normally be inside and putting it on the outside, turns the unremarkable into something very unusual. It inverts the status quo."
Plumbs, providers of the spotlighted fabric, are keen to be involved in the project. Offering Alice the use of their factory in Preston and assisting with cutting and sewing of the material, the family-run business live up to their popular phrase 'we can cover anything'. Plumbs' Production Manager, Christine Breakall expresses her excitement about the project:
"As a company who pride ourselves on being able to cover and re-upholster almost anything, we often receive some quite elaborate and wonderful furniture. A house on the other hand is something we have never attempted." She continues, "We are all very excited to be part of what Alice is doing, and look forward to seeing the end result and public reaction."
No stranger to the absurd and irregular, Alice's artistic repertoire includes thought provoking pieces such as polishing white lines in the road in Dumfries and Galloway countryside. Another memorable performance saw Alice in a pink rabbit costume, vacuuming local woodlands.
Her latest piece comes as part of the Spring Fling's 10th anniversary. Sharing their celebrations with the Queen's Jubilee later in June, the event organisers wanted to commission public art that would display the artistic talent in Dumfries and Galloway.
For Alice, Couch is about encouraging the public to have fun:
"People have a limitless capacity for expression, fun and communication – in Britain, we tend to be very restrained in what we feel we can and can't do. I'd love to hear what people think of my work. I hope they see it as something that's really joyful."
The oversized loose cover is being created piece by piece with the final result being erected on 31st May. It will remain, closely fitted around the building throughout the bank holiday weekend 2nd – 5th June. It is hoped that the piece will bring crowds to the area, with ample parking and numerous picturesque walks available. The cottage and it's new made-to-measure cover will be highly visible on the B736, three miles south of Castle Douglas.
About Plumbs:
Plumbs have around 150 Home Consultants who will visit homes free of charge. The Home Consultants can recommend an appropriate loose covers solution and advise on room colour co-ordination and any other home furnishings such as upholstery, loose covers for sofas, cushion covers and curtains.
Plumbs have over 350 different upholstery fabric designs and colours to choose from, and a range of materials to suit any piece of furniture.
For further information please contact: Hannah Jones on 01772 838 301 or email hjones(at)plumbs(dot)co(dot)uk
About Spring Fling:
This year's Spring Fling runs from 2nd-5th June with 76 artists and craft makers taking part. A diverse range of paintings, photography, jewellary, textiles, glass, ceramics and furniture will be available to see and buy at the event. Studios taking part will open daily between 10:30am and 5pm. For full deatils of the event and the participating artists, see the website at: http://www.spring-fling.co.uk