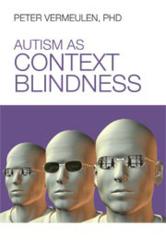 "This book is a game changer in the way we view and support individuals with autism spectrum disorders …" Brenda Smith Myles, PhD
Overland Park, KS (PRWEB) May 03, 2012
Despite years of study and advanced technologies, psychologists still do not fully understand how the "typical" brain works, much less how an autistic brain works. While people have become increasingly familiar with the term "autistic thinking," people with autism are still misunderstood, leading to frustration, depression and missed opportunities to reach their potential. According to Dr. Peter Vermeulen, treatment of autism is still too focused on behavior and not enough on observation or determining the way of thinking that leads to the behavior.
Often humorous, and full of examples, Autism As Context Blindness goes on to examine "context" as it relates to observation, social interactions, communication and knowledge. The book concludes with a major section on how to reduce context blindness in these various areas, vital for successful functioning. Due to the far-reaching consequences of context blindness, this book is a must for those living and working with individuals with autism.
People with autism have difficulty with context. They can only understand context blindness if they know what it is to see context and how the human brain processes and uses context. Therefore, this book is not only about autism, but first and foremost about context sensitivity in the non-autistic brain.
Book Excerpt:
"The behavior and reactions of people with autism are mostly logical but often at the same time seemingly a little inappropriate, because they are out of context. When the front doorbell rang, the mother of a seven-year-old boy with autism asked her son to open the door. He opened the back door instead of the front door … His reaction was logical; he did exactly what his mother asked him to do: He opened a door. But his choice of door was out of context."
Dr. Vermeulen's insights regarding context blindness deliver fresh perspective on how individuals with an autism spectrum disorder (ASD) perceive and respond to their environment. Using examples from his own clinical practice, Dr. Vermeulen shares his theory of how context blindness directly impacts an individual's cognitive abilities, thus impacting communication, social cognition, and behavior. Understanding context blindness leads to a better understanding of ASD.
About the Author:
Dr. Vermeulen is a psychologist and co-director of the Centre for Concrete Communication, a training and education center specializing in Autism Spectrum Disorders in Belgium. He has written 15 books on autism, some of which have been translated into different languages.
About AAPC Publishing:
Established in 1999, the mission of AAPC Publishing is to be the first source for practical solutions related to autism spectrum and related disorders. They are an independent publisher, targeting professionals and parents alike, striving to offer publications at affordable prices so that important resources will not be off limits to anyone with an interest in the autism spectrum.
For media inquiries, please contact marketing(at)aapcpublishing(dot)net.