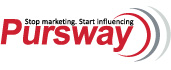 Marketing's holy grail is to identify the few influencers in every crowd, focus the marketing effort on changing the behavior of the few, and getting the few to influence and change the behaviors of the many.
Boston, MA (PRWEB) May 01, 2012
Pursway, Ltd. announced today that Phillip J. Riese has joined the company's board of directors.
Phillip Riese is President of Riese & Others, his personal vehicle for investments made alongside a number of venture and private equity firms. He is the former President of American Express Consumer Cards Services Group, where he spent 18 years of his career developing, marketing and servicing charge and credit card products. He serves on the board of a number of privately held companies in the US, Europe and Asia. He holds a B.Com in Textile Engineering and Economics from the Unversity of Leeds in the UK, an MBA from the University of Cape Town and a SM from MIT in the US.
"We are excited to welcome Phillip to Pursway's board," said Elery Pfeffer, Chief Executive Officer of Pursway. "Few executives today have the experience and expertise, as evidenced by his years of success at some of the world's largest financial services companies. Phillip's contributions will be invaluable to the Company and its shareholders as we continue to expand the business in the financial services and other marketplaces".
"Direct marketing's holy grail is to identify the few influencers in every crowd, focus the marketing effort on changing their behaviour of the few, and getting the few to influence and change the behaviours of the many.," commented Riese. "Pursway's analytics and technology had now done this for companies in financial services, telecommunications, retail and hospitality. In each case good marketing programs have become great and ROI has increased significantly. "
About Pursway
Pursway empowers consumer-facing organizations to close the gap between how they market and how people buy. The Pursway patent-pending technology enables companies to identify, measure, and impact how opinion leaders shape their followers' purchasing decisions. Using the Pursway solutions, leading global organizations in telecommunications, retail, and financial services are realizing 5-10x improvement in the ROI of customer acquisition, cross-sell, and churn prevention efforts. Pursway is led by a team with an innovative track record in consumer marketing, social network analytics, advanced algorithmic development, and big data. http://www.pursway.com