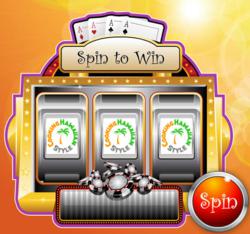 "The contest was our way of reaching out to the community and giving back for the tremendous support received "
Honolulu, HI (PRWEB) May 01, 2012
Cooking Hawaiian Style, Island Princess Hawaii and Hawaiian Food Online provide website visitors an exciting way to win great prizes with its "Spin To Win" online game.
Visitors and fans of Cooking Hawaiian Style, Island Princess Hawaii and Hawaiian Food Online are invited to try their luck on the "Spin To Win" online Game. During the four month contest, from May 1, 2012 – September 1, 2012, visitors to the Facebook pages of Island Princess Hawaii and Hawaiian Food Online also have a chance to play the "Spin To Win" game by simply liking the page and filling out a short entry form. The social media campaign is designed to share information about each company's products and services to people who are interested in authentic Hawaiian products. Winners will be chosen at random and notified by email.
"Like Cooking Hawaiian Style we are passionate about all things Hawaii. We're based in Honolulu with Macadamia Nut orchards in Hilo. The contest was our way of reaching out to the community and giving back for the tremendous support received " said Michael Purdy, President of Island Princess Hawaii. "We want to give back to our fans and this was the perfect way to show our appreciation."
Cooking Hawaiian Style is a website featuring Hawaiian and Hawaii-inspired recipes contributed by members. The site offers 1000's of free recipes from all ethnicities featuring 5 new recipes everyday. "People from all over the world are now able to enjoy and share a part of our culinary heritage" said site founder Frank Abraham.
Island Princess Hawaii began in 1985 and is owned by Dr. Michael Purdy and his wife, Gwendolyn. Their Macadamia Popcorn Crunch and Mele Macs were an immediate hit. Three years later,the Maui based candy operation expanded to Honolulu. In 1998 Island Princess acquired a macadamia nut orchard and processing facility. This is a a 1,100-acre orchard and nut processing facility located on Keaau. The acquisition made Island Princess one of the few companies in Hawaii that grows, processes, manufactures and distributes macadamia nuts and confections. Today it is one of Hawaiiís top suppliers of specialty macadamia nut products as it continues to set new standards of excellence that are based on the owners' strong work ethic, vast energy and dynamic leadership.
Island Princess Hawaii Contact Information
2846 Ualena Street
Honolulu, HI 96819
Phone: (808) 839-5222
email: info(at)IslandPrincessHawaii(dot)com
Hawaiian Food Online specializes in shipping frozen Hawaiian foods directly to homes and businesses in all 50 states. The company was founded in 1991 by Keith and LeeAnne Evanovich in Nevada. Their love for the Hawaiian people and culture led them on a path to continue selling Hawaiian food, only now through their website http://www.hawaiianfoodonline on the internet.
Hawaiian Food Online Contact Information
6655 W Sahara Ave., Suite E-102
Las Vegas , NV 89146
Phone: (800) 819-5824
email: orders(at)hawaiianfoodonline(dot)com