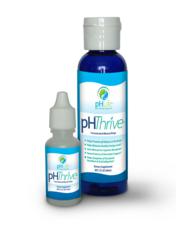 We believe that the human body can restore itself naturally, if we provide it the right tools and we are proud to provide pH Thrive™ as one of those vital tools.
Springfield, MO (PRWEB) May 01, 2012
Based on pioneering research by a Nobel laureate who studied disease-fighting benefits of keeping alkaline levels in the body balanced by reducing acidity, the new pH Life™ brand offers an alkaline mineral supplement, wellness support, and coaching to those seeking to improve their overall health and a balanced body. By ensuring that the body's pH balance is correct, an ideal environment is created for optimal health. Adding needed minerals is proven to regulate pH in the body; pH Thrive™ is a safe, effective way to build balance.
pH Thrive™ is an all-natural, trace mineral concentrate that contains a full spectrum of naturally occurring minerals, balanced much like the fluids in our bodies. This balance is achieved by using minerals harvested directly from the Great Salt Lake in Utah. When added to teas, juices, or even coffees, it becomes an easy way to supplement needed trace minerals in our diets, while reducing acidity. When added as directed to purified water, pH Thrive™ creates an alkaline mineral water that can help promote pH balance in the body. The product comes in both 2 ounce and ½ ounce sizes for convenience.
There is growing evidence that a pH balanced body is a healthy body. A recent seven year study conducted at the University of California, San Francisco, on 9,000 women, showed that those who have chronic acidosis are at greater risk for bone loss than those who have normal pH levels. The study suggested that many of the hip fractures prevalent among middle aged women are connected to high acidity caused by a diet rich in animal foods & processed foods products. This is because the body borrows calcium and other alkaline minerals from the bones in order to balance pH. Another study published recently by the National Institute of Health demonstrates how an alkaline body fights off pathogens that cause disease by creating a healthy cellular environment. And oxidative stress has been linked with inflammation and cancer in this review study completed at the M.D. Anderson Cancer Center in Houston, Texas; one of the premier cancer research hospitals in the world.
"Our company mission is to be a leader in the pH body balance field because balancing the pH in your body is one of the most important wellness factors you can control," said Stacy Kimmel, wellness professional and spokesperson for pH Life™. "We believe that the human body can restore itself naturally, if we provide it the right tools and we are proud to provide pH Thrive™ as one of those vital tools."
Contact:
Nicole Kimmel, pH Life™
855-296-8774
info(at)yourphlife(dot)com