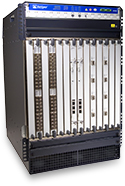 Our goal is to give our customers the best network performance and overall reliability of any host in Canada.
Vancouver, BC (PRWEB) May 28, 2012
Canadian Web Hosting (http://www.canadianwebhosting.com), a leading online web hosting provider in Canada announced today that it has acquired and deployed Juniper MX 3D routers with their Junos operating system to solidify their CA Cloud services and handle the rapid growth of their cloud services including a sharp increase of internet traffic usage. The initial deployment includes several data centres across Canada including Toronto, ON and Vancouver, BC. Canadian Web Hosting customers will now have access to advanced hosting services like Anycast routing, Disaster Recovery Services and geo-dispersed clustered hosting that allows customers to take advantage of the geographic benefits of hosting in Canada.
The decision to partner with Juniper was based on the capabilities of the high-performance MX series routers that are capable of handling different types of traffic and gives Canadian Web Hosting the ability to separate control of and forwarding functions that in turn provide maximum scale and intelligent service delivery for their customers.
Canadian Web Hosting's CTO, Kevin Liang states, "aligning ourselves with an industry leader like Juniper will help us diversify our network infrastructure and improve delivery Cloud and Web Hosting services that are highly reliable and support multi-point connectivity. Our goal is to give our customers the best network performance and overall reliability of any host in Canada, and with this deployment, we are boosting performance, decreasing latency and helping our customers compete over the near- and long-term."
"We want our CA Cloud and web hosting customers to have the best service and value in the industry. With these new MX series routers, we can now take something that was roadblock for our customers and turn it into a unique advantage for them by easily expanding our existing service offerings and integrating geographic flexibility. With services like automated failover and geo-dispersal, Anycast routing, and BGP networking customers can now utilize multiple points of connectivity without their data ever leaving. You get the best of the cloud, but keep it strictly Canadian," said Matt McKinney, Managing Director of Canadian Web Hosting.
About CANADIAN WEB HOSTING Hosting
Since 1998, Canadian Web Hosting has been providing a 100% all Canadian service that delivers on-demand hosting solutions including Shared hosting, Virtual Private Servers (VPS), Cloud Hosting, Dedicated Servers, and IT as a Service for Canadian companies of all sizes. Through the use of innovative technologies and experienced support personnel, they continually focus on helping each customer by offering configurable solutions that are tailored to their exacting business requirements. Canadian Web Hosting guarantees a 100% network uptime, and a total money back guarantee that backs everything they do. Customers can get help by calling 1-888-821-7888 to get basic support. For more advanced technical support, customers can use email, ticketing or real time live chat support with support staff.
For more information, visit them at http://www.canadianwebhosting.com, or get the latest news by following them on Facebook and Twitter at @cawebhosting.