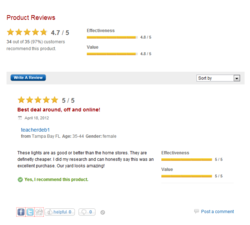 Since the launch of the reviews module, over 5,000 unique customers have contributed nearly 7,000 1000Bulbs.com product reviews.
Garland, TX (PRWEB) May 01, 2012
How do you get customers to rave about light bulbs? According to 1000Bulbs.com, it's easy: You just ask them what they think of your products. On May 25th, 1000Bulbs.com will mark the first anniversary of its popular customer review module. The program has resulted in thousands of ecstatic reviews for the retailer's lighting and home interiors products.
When launching customer reviews, the 1000Bulbs.com marketing team was worried about one big thing: Customer interest. Plenty of websites solicit customer reviews, from clothing stores to electronics manufacturers; even local reviews have taken off, with customers sharing their dining, shopping, and entertainment experiences with the web community. However, who wants to talk about their experiences with light bulbs? Reviews of commodity items in general, much less light bulbs, were rare on the Internet, giving rise to some misgivings on the marketing team's part.
Fortunately, the 1000Bulbs.com team's fears were unfounded. It turns out customers do want to talk about the pros and cons of any product, including CFLs, LED bulbs, fluorescent and HID ballasts, even common incandescent light bulbs, and by large margin, too. Since the launch of the reviews module, over 5,000 unique customers have contributed nearly 7,000 1000Bulbs.com product reviews. Some 50 customers have even become "power users" by contributing five or more reviews.
Within the first few weeks, the 1000Bulbs.com customer community also quashed any trepidation about an onslaught of poor reviews. Of the thousands of reviews now on 1000Bulbs.com products, less than 5% are unfavorable, with the other 95% of reviews having three or more stars on a 1 to 5-star scale. 70%, in fact, garner the highest rating of five stars. Customers not only love the products they buy, but many become evangelists for their favorite lighting products, such as antique light bulbs which were elevated from relative obscurity to some of 1000Bulbs.com's most popular products. One antique bulb now boasts 35 reviews and has become a top-selling product.
The reviews earn more than just bragging rights for the Internet retailer. Customer reviews provide invaluable data to the 1000Bulbs.com team, from simple customer preferences to product "bugs" that can be addressed in revised product descriptions. The real goldmine of product feedback, however, is negative reviews. Negative reviews, though rare, help the customer service team to identify problematic products, bad batches, and incorrect shipments. These issues, more often than not manufacturing errors, help 1000Bulbs.com's distributors to redesign and improve products, giving 1000Bulbs.com a powerful voice in not only product sales, but also in future product design. Marketing director Jeremy Foster shares one such experience:
"Just this past month we had a bad shipment of PAR20 bulbs from an otherwise great manufacturer. Part of the bulb malfunctioned and caused a safety hazard. When we received his [the customer's] bad review, we immediately contacted the vendor with the issue. They [the vendor] recalled the batch and we were able to replace the customer's order in just a few days!"
Due in part to a weekly product review contest that reimburses the winner's last 1000Bulbs.com order value, the number of reviews the company receives has grown exponentially. The website receives well over 100 product reviews per week and customer reviews are now available on 30% of all products listed on the website and on 80% of the company's most popular products. 1000Bulbs.com predicts that 50% or more of its products will have at least one customer review by the end of the summer.
About 1000Bulbs.com: 1000Bulbs.com is an award-winning Internet-based lighting retailer. The company offers everything from simple, household light bulbs to cutting-edge specialty lighting systems. Nationally recognized for growth, innovation, and customer satisfaction, 1000Bulbs.com is an influential force in the lighting industry.