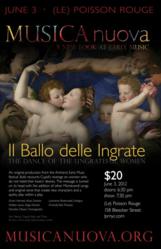 New York, NY (PRWEB) May 01, 2012
Sunday 06.03.12
Musica Nuova performs Monteverdi's 'Il Ballo delle Ingrate" ("The Dance of the Ungrateful Women") w/ additional Monteverdi songs and dialogue
6:30pm doors | 7:30pm show
Live at (Le) Poisson Rouge
Musica Nuova's first season in New York culminates with a performance of Il Ballo delle Ingrate at (Le) Poisson Rouge, Monteverdi's rarely-performed masterwork that urges women to submit to their lovers or be condemned to hell. Turning this message into a parody of itself is a new pastiche of Monteverdi songs and English dialogue, created by Grant Herreid and Lawrence Rosenwald. The production appears Sunday, June 3 at (Le) Poisson Rouge. General admission tickets for seated and standing room are $20 and are available at http://www.lprnyc.com.
Monteverdi's Il Ballo delle Ingrate (1608), a stunning masque from the early days of opera, recounts Cupid's woes when women no longer heed their lovers' desires. Venus and Cupid ask Pluto to bring the spirits of women who rejected love up from the underworld to show what fate awaits today's unyielding women in the afterlife. To make this overlooked masterpiece palatable to a modern audience, lutenist and music director Grant Herreid has added and arranged other Monteverdi songs and opera excerpts to create new characters who reject this message, and encourage the audience to do the same. Wellesley professor Lawrence Rosenwald has written original English dialogue in verse that is elegant modern, and evocative of the period. The performance includes several Baroque dances choreographed by Dorothy Olsson of New York Historical Dance Company. Filled with humor, action, and thrilling music, this production of "Ballo" is based on a version developed at the 2002 Amherst Early Music Festival, which received a rave response. Although a favorite among performers, the Musica Nuova production is the first time in ten years that this modern "Ballo" pastiche has been performed.
The cast includes: Peter Becker, Nicholas Tamagna, Steven Hrycelak, Silvie Jensen, Michele Kennedy, Amanda Keil, Lucy Fitz Gibbon, Catherine Leech, Elizabeth Merrill, and John Carlo Pierce.
About Musica Nuova:
Founded by Artistic Director Amanda Keil in Boston in 2008, the early music ensemble Musica Nuova brings new perspectives to Baroque music by heightening the dramatic qualities intrinsic to the repertoire. Through staging and storytelling, Musica Nuova weaves storylines based on the meaning of the songs. The goal of the company is to create performances that transcend the standard concert experience of early music, providing a framework to engage newcomers and offer a new level of understanding to experienced listeners.
During its initial years in Boston, Musica Nuova was presented on concert series with the Society for Historically Informed Performance (SoHIP), Bates College, MIT Chapel, Boston Early Music Festival Fringe Concerts, and Newton Library, and was Ensemble-in-Residence at the Amherst Early Music Festival in 2010. In July 2012, Artistic Director Amanda Keil and harpsichordist Gabriel Shuford will travel to the International Early Music Festival in Riga, Latvia, on the invitation of the U.S. Consulate. 2011-12 marks Musica Nuova's full debut season in New York, including its first full length opera.
Artistic Personnel:
Grant Herreid (Music Director) performs frequently on early reeds, brass, strings and voice with Piffaro, Hesperus, ARTEK, and My Lord Chamberlain's Consort, and appears frequently with the Newberry Consort, the Folger Consort, King's Noyse, Apollo's Fire, Brandywine Baroque, Sinfonia New York, and the New York Consort of Viols. He is on the faculty at Yale University, where he directs the Collegium Musicum and, as Artistic Director of the Yale Baroque Opera Project, he was music director for their recent productions of Cavalli's Giasone, Sacrati's La Finta Pazza, and Cavalli's Scipione Affricano. Grant also teaches at Mannes College of Music, and directs the New York Continuo Collective, an ensemble of singers and early plucked-string instruments devoted to the interpretation of 17th-century continuo song. He is a stage director for the Accademia d'Amore baroque opera workshop in Seattle, and has played theorbo, lute and baroque guitar with the Chicago Opera Theater, Aspen Music Festival, Portland Opera, and New York City Opera, as well as the opera programs at Juilliard, Curtis, and Mannes. Grant has created and directed several theatrical early music shows, and he devotes much of his time to exploring the esoteric unwritten traditions of medieval, Renaissance, and baroque music with the early music ensemble Ex Umbris and the plucked-string group Ensemble Viscera.
Walker Lewis (Stage Director) recently worked with Andrei Serban on Verdi's Otello at the Paris Bastille Opera, directed Liddy's Sammiches, Potions, and Baths at Arkansas Repertory Theatre, and assisted Isabel Milenski on Pocket Opera's Apollo e Dafne + Monteverdi Madrigals. Recent New York directing work includes The River and Hamlinat Concordia Conservatory, A Dream Play (Lincoln Center Directors Lab), Life Is A Dream (Magis Theatre), Antigone(Flamboyan Theatre), The Subtext of Texting (Hudson Guild Theatre), and Uncomfortable Sex (Players Theatre). Regionally he has directed at the Swallow Theater, SOMArts, and the Jones Repertory Theater. Upcoming work includes Gianni Schicchi on Martha's Vineyard. Walker has also directed and taught in France, Hungary, Russia, and Japan. Training: The Lecoq School; Columbia University, MFA.
Dorothy J. Olsson (Choreography) has given numerous workshops in historical dance and has choreographed for Piffaro, the Folger Consort, Western Wind Vocal Ensemble, Mannes Camerata (Mannes College of Music), Wake Forest University and Princeton University. Dorothy teaches at the Amherst Early Music Festival where she has directed several historical theatrical productions. Dorothy received her B. M. in Music Education, major in Bassoon, from the Crane School of Music (State University College at Potsdam, NY), and received her Master of Music in Musicology from Manhattan School of Music. She completed her Ph.D. in Performance Studies at New York University, with a dissertation on early twentieth-century dance. She was an Assistant Professor of Dance Education at New York University for ten years. Dr. Olsson has co-authored seven books on historical dance, including Terrstepery, A Primer for Historical Dance. Her article on "Seventeenth-Century Dance" appears in A Performer's Guide to Seventeenth-Century Music (ed. Stewart Carter, Schirmer Books). She is the Founder and Director of the New York Historical Dance Company (http://www.newyorkhistoricaldance.com).
Amanda Keil (Artistic Director) is the founder of Musica Nuova, which invigorates early music performances with staging, movement, and storytelling. Keil sings repertoire that spans over 800 years, from medieval chant to contemporary opera, Baroque monody to operatic mainstays. A current Resident Artist with Dicapo Opera, she has been seen as Nerone in L'Incoronazione di Poppea, Orlofsky in Die Fledermaus, the Fairy Queen in Iolanthe, and as Hillary Clinton and Gwen Ifill in the world premiere of Say it Ain't so Joe, by Curtis K. Hughes, which will be released on CD in 2011. In 2008 she toured with The Boston Camerata, performing the medieval story of Tristan and Isolde in Paris and Boston. Musica Nuova has been recognized by the Anna Sosenko Trust, was the 2010 Ensemble in Residence at Amherst Early Music, and was featured in the 2009 Society for Historically Informed Performance Summer Concert Series. Amanda holds a masters degree in voice and historical performance from Boston University and a bachelors degree in French horn performance from The Hartt School.
(Le) Poisson Rouge
158 Bleecker Street
http://www.lprnyc.com
info(at)lprnyc(dot)com | 212 505 FISH
Ticket Hotline: 866 55 TICKETS
Venue & Artist Press Inquiries (Photos, Bios, Interviews): dustin(at)lprnyc(dot)com | 212 505 FISH