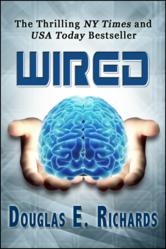 A keep-you-up-all-night thriller. Intense action, mind-blowing concepts & breathtaking twists.
(PRWEB) May 01, 2012
AMPED, the highly anticipated sequel to the runaway bestseller, WIRED, has finally arrived. WIRED was not only a New York Times and USA Today bestseller, but the bestselling Kindle novel of 2011 in two major categories---technothrillers and science fiction---an unprecedented achievement. To mark the launch of the sequel, the eBook version of WIRED is being discounted to $.99 for both Kindle and Nook users (Amazon & Barnes & Noble).
Author Douglas E. Richards has been frequently compared to the late Michael Crichton for his ability to weave action, suspense, and well-researched science into riveting page-turners. Within a day of its launch, AMPED was listed on Amazon as a "hot new release" and is quickly climbing the Amazon charts.
"WIRED is a keep-you-up-all-night thriller," says bestselling author Boyd Morrison. "It's packed with intense action, mind-blowing concepts, and breathtaking twists. I was blown away."
In the book, Kira Miller is a brilliant but enigmatic genetic engineer who discovers how to temporarily achieve savant-like capabilities in all areas of thought and creativity. But she is also behind a bioterror plot that threatens millions. When ex-special forces operative David Desh is sent to capture her, he quickly learns that the bioterror plot is just the tip of the iceberg, and he is thrust into a byzantine maze of deception and intrigue. Soon, Desh becomes a key player in a deadly game he can't begin to understand. A game that is certain to have a dramatic impact on the future course of human history. . .
WIRED is available at Amazon and Barnes & Noble. To learn more about Richards and his work, visit his website (douglaserichards.com) or Friend him on Facebook at Douglas E. Richards Author.