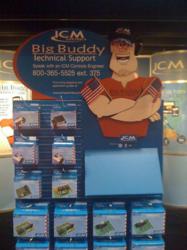 Syracuse, NY (PRWEB) May 15, 2012
ICM Controls, a leader in the manufacture and supply of electronic controls to the HVAC/R industry, announces a new vodcast with Kevin Jobsky, Director of Marketing, and Eric Wood, Electrical Engineer at ICM Controls, on the new Big Buddy merchandising program. As Mr. Jobsky informs the audience, the Big Buddy concept came about due to the positive feedback from field technicians on the quality of support that they received from ICM's Tech Support Team. Big Buddy was designed to raise awareness of the support team, and let contractors know that the support team is always available as a resource.
Unlike many companies that choose to outsource their technical and/or customer service calls, ICM Controls staffs its HVAC Tech Support Hotline with engineers that actually design the company's products. As Mr. Wood and Mr. Jobsky explain in the vodcast, the support team fields questions on issues all over the board, from simple programming issues to diagnosing system faults, whether an ICM product is involved or not. Mr. Jobsky emphasizes that whatever the topic, sharing knowledge between ICM engineers and field contractors is very helpful on both sides, as it allows ICM engineers to learn firsthand what problems or challenges are regularly faced in the field.
Additionally, Mr. Wood discusses how fielding these calls can sometimes lead to design improvements and enhancements in current products by learning how the products are integrated into a system. It can even spur creative thinking for new products that can help improve a contractor's field work. So far, Mr. Jobsky says, the feedback on the Big Buddy program has been incredibly positive. For field technicians and contractors, knowing that a team of knowledgeable engineers is just a phone call away is a big reassurance.
To view the vodcast, and for more information on the new Big Buddy merchandising program, please visit http://www.icmcontrols.com/video-library.html.
About ICM Controls Corporation
ICM Controls has been a leading manufacturer of electronic controls for the HVACR industry for more than 25 years, a position achieved through product and process innovation. Serving both the OEM and the aftermarket, ICM Controls' goal is to provide its customers with the most technologically advanced products at the greatest value without compromise in quality. ICM Controls offers better command of the supply chain through true vertical integration. Its products are proudly made in the U.S.A.
For further information about ICM Controls and its products, call 800-365-5525 or visit http://www.icmcontrols.com, or follow us on Twitter, Facebook, and LinkedIn.