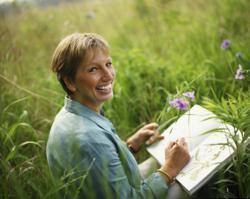 Kansas City, Mo. (PRWEB) May 01, 2012
Dutch artist Marjolein Bastin's remarkable interpretation of nature will continue to adorn Hallmark's greeting cards, gift wrap, stationery and partyware with the renewal of a multi-year licensing agreement. The agreement extends Hallmark's exclusive rights to showcase Marjolein's work.
The news coincides with the 20 year celebration of Bastin's partnership with Hallmark. The greeting cards that feature Bastin's work, marketed under the Nature's Sketchbook name, continue to be among the top properties at Hallmark.
"Marjolein's deep love of nature and desire to share that passion is obvious in all she creates," Jeb Stuckey, Hallmark licensing creative account manager. "She's an incredible partner and works closely with us to create innovative product solutions reflective of her deep relationship with the world around her."
Hallmark is planning to present Bastin's artwork in a variety of new ways. Some of the new greeting cards will feature her writings as well as her designs.
"Marjolein's personal written observations on nature are as memorable as her artwork," said Peggy Wrightsman-Parolin, Hallmark creative director licensing editorial . "She invites each of us to share her enthusiasm for nature and to appreciate the beauty around us and the joy within us."
For more information, visit Hallmark.com or Hallmark's newsroom.
About Hallmark Cards, Inc.
Hallmark makes the world a more caring place by helping people express what's in their hearts and spend time together — a privilege few other companies in the world enjoy. Hallmark greeting cards and other products are found in more than 38,000 retail outlets in the United States, including the network of flagship Hallmark Gold Crown® stores. The brand also reaches people online at Hallmark.com and on television through Hallmark Hall of Fame original movies and cable's top-rated Hallmark Channel. Worldwide, Hallmark offers products in more than 30 languages available in 100 countries. This privately held company is based in Kansas City, Mo., and is led by the third generation of the founding Hall family. Visit http://corporate.hallmark.com for more details.