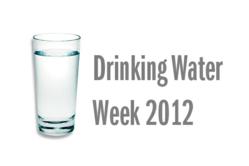 "Drinking Water Week is a good time to set aside a few moments to prepare our own homes for rare water emergencies."
Denver, CO (PRWEB) May 11, 2012
As Drinking Water Week 2012 concludes, the American Water Works Association (AWWA) joins water professionals across North America in encouraging home preparedness for water-related emergencies.
"We all have an important role to play in keeping our water supplies safe and preparing for the unexpected," said AWWA Executive Director David LaFrance. "Drinking Water Week is a good time to set aside a few moments to prepare our own homes for rare water emergencies."
In the post 9/11 era, water professionals and emergency responders have taken steps to further protect water supplies, treatment facilities and distribution systems from natural and man-made disasters. Meanwhile, public health agencies, hospitals and emergency personnel continue to practice disaster response scenarios. Utilities have also developed WARN networks, which prepare them assist one another quickly and efficiently during emergencies.
Still, consumers should be prepared for rare service interruptions that can occur from natural disasters, system malfunctions, power outages or other events. Preparing for water emergencies includes:
Storing Water

Store one gallon (about 4 liters) of water per person per day. Have enough water on hand to last at least three days.
Store water in quality food-grade plastic containers instead of glass. Avoid paper containers that will weaken over time.
Observing Boil Water Notices

Your water utility has a process in place to alert you if problems exist with your tap water. Water suppliers, working with state and local health officials, may issue a "Boil Water Order" or a "Do Not Drink" notice if testing indicates contamination may be present.
When a Boil Water Order is issued, make sure any water used for drinking is boiled for at least three minutes (five minutes at higher altitudes). If you still have power, refrigerate the water after you have boiled it.
Monitor local news for status updates.
About Drinking Water Week
For more than 35 years, the American Water Works Association and its members have celebrated Drinking Water Week – a unique opportunity for both water professionals and the communities they serve to join together to recognize the vital role water plays in our daily lives.
# # #
AWWA is the authoritative resource for knowledge, information, and advocacy to improve the quality and supply of water in North America and beyond. AWWA is the largest organization of water professionals in the world. AWWA advances public health, safety and welfare by uniting the efforts of the full spectrum of the entire water community. Through our collective strength we become better stewards of water for the greatest good of the people and the environment.