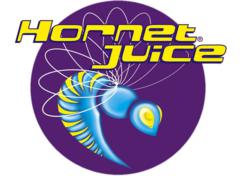 Hornet Juice is a unique & new concept for a sports / energy drink with fat burning properties
London, United Kingdom (PRWEB UK) 2 May 2012
Hornet Juice! The revolutionary new Energy drink & Sports supplement is now available to UK residents & Retail exclusively from http://www.ultraenergydrink.co.uk
This much-blogged and tweeted-about endurance beverage has been fuelling multisport athletes worldwide, helping them boost endurance and break their personal records.
Founded in 2006 by Nature Sport Science in New Zealand, Hornet Juice is a powdered sports drink that you mix with water or your favourite electrolyte drink. The amino acid mix in Hornet Juice works by turning one's body fat for energy right from the start of exercise.
Other sports drinks replace electrolytes, carbohydrates and other substances lost during exercise. Hornet Juice on the other hand triggers fat to be used for fuel.
"It is with great pleasure to announce, that Hornet Juice is now available in the UK exclusively from http://www.ultraenergydrink.co.uk and what a great opportunity is it to be available to offer this product especially after experiencing the benefits this drink offers first hand" says Steve Carter owner of http://www.ultraenergydrink.co.uk
"http://www.ultraenergydrink.co.uk also has the exclusive rights to offer this amazing product to the retail and would welcome enquiries from the retail sector to stock the product although we are looking to work with an exclusive few as opposed to many" added Steve Carter.
Rave reviews in the social media world
And Hornet Juice has been gaining a loyal following of athletes worldwide. "Just do a Google search about our product and you will unearth a host of genuine testimonials about HJ — in blogs, twitter and facebook," says Rina Calica-Ward, Founder of Hornet Juice "Thanks to the power of social media, we let our customers do the selling for us," she adds.
Some prominent users include Tri-coach Brett Blankner of Zentriathlon.com, Elite Australian triathlete Bill Scanlan of BillScanlan.net and pro heavyweight boxer Brian Minto.
Hornet Juice is also much more then just an Energy Drink or sports supplement, it is packed with all the amino acids which the body thrives on and can be taken for health and well-being exactly in the same manor you would take vitamins etc.
Hornet juice can also be used as a weight loss supplement as it has many fat burning properties and also not to mention how it can also aid Hangovers after a heavy night.
For more information on Hornet Juice Sports Drink, contact Steve Carter via http://www.ultraenergydrink.co.uk. Enquiries from resellers are welcome.
About Hornet Juice
Hornet Juice can be used by anyone that partakes in exercise be it Gym-users, Athletics, Swimming, Football, Boxing, Rugby, MMA or anything that requires Cardio-Vascular work. A scientific sports drink that increases athletic energy, endurance and speed and quicker recovery times. The unique combination of amino acids in Hornet Juice works as a trigger for the oxidation of fat, which provides the user with an abundant and long lasting source of energy. It is sold as a powder in 15 gram packets and can be mixed with water or sports drinks.