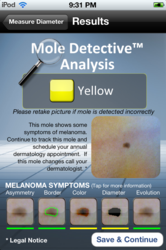 "I recommended your app to my facial lady and she used it on a lady to catch a mole that turned out to be cancerous- great job!!" – Facebook post
(PRWEB) May 07, 2012
Just in time for Melanoma Monday, May 7th, there is a new smartphone app that could save your life, Mole Detective. Melanoma has been on the rise for the past 40 years in the United States and is the number one cancer among young adults ages 24-29. Mole Detective was created to help reverse this trend and was inspired by the creator's fiancé who is a melanoma survivor. Mole Detective helps people track their moles easily in between doctor visits, helping save lives through early detection. The app can be downloaded for Iphone and Andorid phones for $4.99 and for the month of May, 10% of all proceeds will be donated to the Melanoma Research Foundation.
Melanoma - Early Detection Saves Lives
Every eight minutes someone dies of melanoma in the United States. When caught at later stages, the cancer is extremely deadly with a survival rate as low as 15%. However, when caught early the survival rate jumps to 95%. With the cases of melanoma on the rise, early detection is critical to saving lives.
The Tool that Could Aid in Early Detection
Mole Detective mathematically calculates the top 5 symptoms of melanoma – Asymmetry, Border irregularity, Color variation, Diameter bigger than 6mm and Evolution/change over time (ABCDE). After being on the market for 4 months, there have been testimonials proving the app is serving its purpose:
"I just got back from the dermatologist because I scanned a few moles with Mole Detective and they came up "red." I'm glad I went because he will be removing all three of them. My mom had melanoma a few years ago and I had been meaning to get a full body scan. This app motivated me to do so and I'm so happy I did!" – iTunes review
"I recommended your app to my facial lady and she used it on a lady to catch a mole that turned out to be cancerous- great job!!" – Facebook post
The Inspiration
The creation of Mole Detective was inspired by a personal experience of the founder, Kristi Zuhlke. Zuhlke's fiancé was diagnosed with melanoma at the young age of 27. After rounds of Interferon treatments and several moles removed over the past 10 years, he still must visit his dermatologist every six months. "He would ask me if any moles had changed, a sign of melanoma. I couldn't remember what they looked like a month ago let alone remember where I put my keys that morning. I needed a tool that could help me keep track so I created Mole Detective" says Zuhlke. Her desire is for this tool to encourage prevention, drive awareness, and early detection so no one will have to face the devastating news that they are fighting to be in the 15% that survive stage four melanoma.