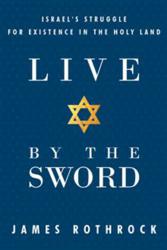 Live by the Sword portrays Israel's struggle for existence in the Holy Land since becoming a Jewish state in 1948.
Washington (PRWEB) May 02, 2012
High-ranking Israeli officials, including Israel's Defense Minister Ehud Barak's comments to the World Economic Forum, have openly confirmed that the window for Israel to take military action to stop Iran from completing its nuclear weapons program is rapidly closing and that Israel may soon be forced to act alone. In his new book Live by the Sword: Israel's Struggle for Existence in the Holy Land (published by WestBow Press), Lt. Colonel James Rothrock examines the dire consequences of such an attack on Iran with a high probability of a devastating retaliatory attack against Israel. Rothrock foresees such a strike unleashing a conflagration that could involve the whole region and even major world powers.
Live by the Sword portrays Israel's struggle for existence in the Holy Land since becoming a Jewish state in 1948. Colonel Rothrock draws on his military experience, travels in the Middle East and academic background to present an authentic picture of the Jewish people's quest for a homeland in Palestine, their fight for survival against multiple Arab invasions, the hundreds of indiscriminate terrorist attacks and the ominous threats to their very existence today.
Colonel Rothrock was inspired to write this book by the incredible courage and iron will of the Israeli people in their fight for survival against overwhelming odds. He was also moved by the incredulous way the people of Israel have endured the daily threat to their lives from invasions and terrorist attacks. The inspiration for the title comes from the former Israeli Minister of Defense, Moshe Dayan, who once remarked that his generation was condemned to live by the sword for the foreseeable future.
About the Author
As a career U.S. Air Force officer, Colonel Rothrock served abroad for 11 years and traveled extensively in the Middle East, Asia, Europe and Pacific. He is a former university professor of world geography. His professional military education includes Air War College, Air Command and Staff College and National Security Management at the Industrial College of the Armed Forces.
Live by the Sword is available from local booksellers and on-line retailers.
WestBow Press is a strategic publishing alliance of Thomas Nelson, Inc., the world's largest Christian publisher, and Author Solutions, Inc. (ASI). Through this partnership, authors benefit from the rich publishing heritage of Thomas Nelson and the speed-to-market advantages of the ASI publishing model. Titles published through WestBow Press are evaluated for sales potential and considered for publication under the Thomas Nelson imprint. Thomas Nelson, Inc. continues to "inspire the world" with distribution of products in more than 100 countries worldwide. For more information, or to start publishing today, visit http://www.westbowpress.com or call (866)-928-1240. Follow us @westbowpress on Twitter for the latest news.
###