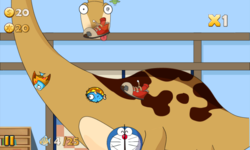 HANOI, VIETNAM (PRWEB) May 08, 2012
PTT Solution INC today announces that a new fishing & flicking game Doraemon Fishing 2, one of the most downloaded games in App Store in February 2012, is now available for Android devices today, free to download.
In this version, we start going fishing as Doreamon, Nobita or Shizuka and try to feed beloved dinosaur Pisu. Beside casting the hook as deep as possible to collect coins and catch fishes while avoiding sharks, with the new gameplay, players will touch on fishing jumping out and flick them towards Pisu.
The iOS version of Doraemon Fishing 2 has just surpassed 1.5 million downloads in the App Store since its debut in February 2012
About PTT Solution INC
PTT Solution INC is a development company created to bring high-quality games that are social, engaging and fun for audiences of all ages. With a strong team of 20+ highly skilled experts, the company strives to become a leading publisher of original games for iOS, Android and other mobile platforms.
Google Play Link Official Website
Doraemon® - the most famous character in Asia, and all related characters, images and logos are registered trademarks of Shogakukan Productions Co., LTD