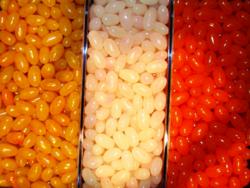 This is not just a novelty selection of candy with unique savory flavors, these are really great jelly beans.
Newport Beach, CA (PRWEB) May 01, 2012
Leaf Brand's® new line of "Beyond Gourmet"® Jelly Beans created in conjunction with David Klein*, the inventor of the Jelly Belly® Jelly Bean, continues to outperform sales forecasts and is currently ranked the #1 product with a five-star feedback rating in gourmet candy gifts on the Amazon.com website.
Amazon sales and feedback have been very positive, and is indicative of other national retailing trends. One Amazon reviewer called the David's Signature Beyond Gourmet® jelly beans "the "Rolls Royce of jelly beans" comparing it to the luxury car that sets the standard among automobiles. According to Ellia Kassoff, the CEO of Leaf Brands, "We have both retailers and consumers all over the world ordering them, including a large distributor in China who wants to open stores under the 'David's Signature Beyond Gourmet® name and sell the full line of 'Beyond Gourmet' chocolates and jelly beans exclusively. It's amazing!"
"Our,"Beyond Gourmet" line of jelly beans is different from ordinary gourmet jelly beans because it is made with only the finest ingredients from around the world, using only 100% natural flavors and colors. Many people assume the other major "gourmet" jelly bean manufacturer uses all natural ingredients, but that's not true anymore and customers really want the natural product," says David Klein, who is also credited for creating The Jelly Belly® Jelly Bean and the whole gourmet jelly bean industry. "We set out to create a whole new market called, "Beyond Gourmet" since the term "Gourmet" was so overused."
Confectionery retailer Oregon Trail Foods based in Portland, Oregon has also received an overwhelming response to the "beyond gourmet" line of jelly beans. "Our samplers are selling like crazy," recounted a salesperson. Customers love and are embracing the exotic flavors, with one stating, "This is not just a novelty selection of candy with unique savory flavors, these are really great jelly beans. I am keeping my fingers crossed that David's Signature Beyond Gourmet® will come up with other distinctive flavors such as bhut jolokia and rocoto peppers, Dijon mustard, Worcestershire sauce, black peppercorn, dill pickle, crab spice, and curry!"
"We really wanted to create a taste experience and not just sell candy; anyone can do that," says Klein. "When you put our Ginger, Thai Chili, Coconut and Lemon in your mouth, you experience the flavors of real Thai Curry!" Klein says with excitement. "The look on people's faces when they try our new jelly beans the first time is just amazing. Stores around the country are calling us so excited because we've reinvigorated them! One store owner actually told me our new jelly beans will keep them in business which made us so happy. We have many stores conducting taste tests and getting rid of the other major gourmet jelly bean they stock in favor of ours because the customers are only buying ours!" Klein ends.
Leaf plans on introducing over 100 new and exotic flavors of David's Signature jelly beans in the next year incorporating the most unique flavors from around the world to create the ultimate flavor experience.
*David Klein is no longer affiliated with The Jelly Belly Company® and his new Line, "David's Signature Beyond Gourmet'® does not have any connection with The Jelly Belly® Candy Company.
###
About Leaf Brands®, LLC: The original LEAF Brands® were started in the 1920's. LEAF Brands, once the fourth largest candy producer in North America, produced candy classics such as Whoppers®, Jolly Rancher® and Rain Blo Bubblegum®, which were later sold to Hershey Chocolate & Confectionary Corporation in the late 1990's. Family members have acquired the LEAF brand name for the US, and assembled together to revive the Leaf name and its famous image. Products include Astro Pops®, Yummers!®, Farts Candy™ and David's Signature Beyond Gourmet® products.