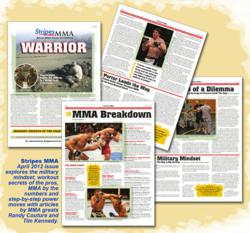 The military market is heating up as some of the best trained fighters in the world turn their considerable skill and attention to MMA.
Washington, D.C. (PRWEB) May 01, 2012
Stripes MMA offers a unique entree into the military MMA market for advertisers and fighters alike; no other publication reaches as deeply into the military market here and abroad or focuses so intensively on the remarkable MMA fighters emerging from the U.S. military.
"The military market is heating up as the best trained warriors in the world turn their skill and attention to MMA," says Donovan Craig, founding editor-in-chief of FIGHT! magazine and unparalleled in the publishing industry for bringing coverage of mixed martial arts to the fore.
Craig, a former fighter himself, says Stripes MMA's unique content is what gives it such high value as a vehicle for companies that want to reach existing and future MMA fighters. Chief among the outstanding features are Randy Couture's column on human performance and insights from Greg Jackson, possibly the greatest MMA coach ever.
Stripes MMA is slated to publish in print on July 30 and a web-based version of the content is in the planning stages to give advertisers an even greater audience reach and military MMA aficionados additional access. Over 200,000 copies of Stripes MMA will be distributed to an estimated global readership of over 460,000.
View the April 2012 edition of Stripes MMA here.
_________________
About Stars and Stripes
Stars and Stripes reports on military matters as the only independent source for news and information operating inside the U.S. Department of Defense that serves the global U.S. military community. Editorially independent of any outside interference and influence, Stars and Stripes provides commercially available U.S. and world news and objective, factual staff-produced stories relevant to the military community it serves.