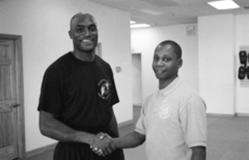 " This is about being your best, come and be inspired"
Kingwood, Texas (PRWEB) May 04, 2012
Wish to excel at or improve in sports? Want better endurance, strength, speed, and mental focus? Tired of doing the same workouts and not getting the results? Ready to take fitness to the next level?
World Champion Master Karl Romain has been studying and training in Kung Fu for over 30 years and his clientele include several well-known athletes and celebrities. Whether a professional athlete, a weekend warrior, or just wanting to shape up for vacation, this program can help. Tested and true, TheShaolin Athlete features the training methods that Master Romain used not only to help Amani Toomer become the all-time leading pass receiver for the New York Football Giants, but also to train numerous world champion martial artists from New York, New Jersey, and Texas. Despite its high level of conditioning and its impressive results, this curriculum is not just for the serious athlete, it is a complete and attainable fitness and health program for everyone.
The Shaolin Athlete covers the three main areas of well-being: the physical, the mental, and the spiritual. Using Kung Fu as a method of physical and mental conditioning, we begin to see it is not just about punching and kicking but also a way of life. Literally translated to mean 'hard work', you can Kung Fu anything as long as you are putting in110% effort. The practice of Kung Fu teaches how to be focused and be disciplined in order to fulfill goals of all levels. From overcoming insecurities, to being a better parent, student, or partner, and to staying younger longer, this book can help in all aspects of life, says Sifu Romain.
Come join Master Karl Romain in a unique event representing the fourth stop in a very successful seminar/book tour that is quickly gaining in popularity across the country. Not just a typical book signing, this is a rare opportunity to learn the secrets of the martial arts from a true expert and to get a great workout without any prior experience in Kung Fu.
Thanks to the proven success of his training program, The Shaolin Athlete has already become a must-have among the fitness world experts. Get ready to embark on a transformational journey!