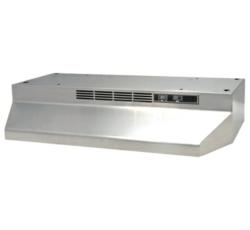 Our range hoods are manufactured with the highest quality process in the industry.
Lima, OH (PRWEB) May 01, 2012
Using capabilities developed over the last 60 years, American Trim introduces a new product line of economy range hoods. American Trim was founded in 1948 by the Hawk family in Lima, Ohio. Known first as Lima Tool and Die, the main focus was on making products with added value components while providing superior pricing to clients. The company has since grown into a major supplier for the appliance industry as well the transportation industry. American Trim's core capabilities include metal stamping, stainless steel fabrication, powder coating, in-mold decorating, rapid prototyping, 5 axis lasering, and roll forming.
American Trim Range Hoods, an expansion utilizing American Trim's core competencies with the ability to create a kitchen range hood that exceeds competition in quality as well as value. Each hood is manufactured, assembled and delivered directly to the consumer from the manufacturing facility in Cullman, Alabama.
American Trim is proud of their range hood line as expressed by Manager of Customer Support, Fred Briggs, "Our range hoods are manufactured with the highest quality process in the industry. Robotically welded and coated to the highest industry standards. All of the hoods are UL approved, and assembled in the United States." This process is used to bring the consumer both the powder coated white, black, and bisque models as well as stainless steel.
American Trim Range Hoods stands by the claim that they manufacture a better quality kitchen range hood – for a better value. Visit the American Trim Range Hoods website for information on the different range hood models and finishes available.
About American Trim
American Trim specializes in the forming, decorating, and coating of metal and composite substrates and is a Tier 1 supplier to the transportation and appliance markets. These core competencies are supported and enhanced by American Trim's Design and Research and Development activities ensuring the most advanced and cost effective solutions for its customers.
For more information, please visit our website at http://www.amtrim.com or http://www.newrangehoods.com/