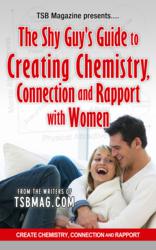 (PRWEB) May 02, 2012
TSB Magazine, a popular dating advice and men's interest website, recently released a new book titled the Shy Guy's Guide to Creating Chemistry, Connections, and Rapport with Women. This book, available in downloadable ebook format from Amazon, is the latest in a series of books published by TSB that focus on teaching guys the skills that they need in order to make romantic connections with women.
The Shy Guy's Guide is edited by Bobby Rio, the founder of TSB Magazine and author of numerous dating advice books, and Matt Juul, who has also edited several other dating-related offerings from TSB.
The Shy Guy's Guide to Creating Chemistry, Connections, and Rapport with Women breaks down the process of a first meeting between a guy and a woman in a social situation. It provides readers with methods that can help them overcome their shyness and build a connection with the women that they approach. And also provides the distinctions to help men avoid the friend zone.
The book first focuses on ways that a man can create "rapport." Rapport is a term that Rio and Juul use to describe the initial feeling of connection between a guy and the woman that he is interest in. The Guide takes an in depth look at this process, providing methods that guys can use to make this first contact and the subsequent connection-building easier. It provides topics, such as subjects related to pop culture, that are ideal for getting a woman's attention and inspiring her to engage in an initial conversation.
Then, the Shy Guy's Guide moves on to explain what guys should do once they have gotten their foot in the door with the initial, rapport-building conversation. In an attempt to make readers aware of the possible downside of rapport-building, Rio and Juul present common pitfalls that sometimes keep guys from making a meaningful connection after that first conversation. This section provides insights into how to avoid what the book calls the "friend zone," where a woman sees a guy as someone who she can have a friendly conversation with, but not someone she is attracted to physically or romantically. The book offers methods for avoiding this pitfall by creating initial rapport that is mixed with a small amount of sexual tension.
Shy Guy's Guide to Creating Chemistry, Connections, and Rapport also offers advice for subsequent meetings with a woman. It touches on topics such as creating an emotional connection with a woman and gaining her trust without ruining the initial rapport and attraction that a guy has already built.
Bobby Rio has created other books and dating courses that get into the nuances of flirtation, conversation, and the creating of physical and sexual attraction. His Making Small Talk Sexy (http://www.makesmalltalksexy.com/blog) course is focused on giving shy guys the tools to engage in flirtatious, rapport building conversations with women. In addition to this and other courses and books, Rio's website, TSB Magazine, is updated daily with articles containing similar dating advice and general men's interest stories.
To learn more visit: http://www.tsbmag.com/what-to-say-to-a-girl/