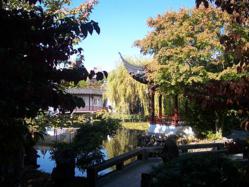 FlightNetwork.com has a garden destination for travellers of every stripe on its list of the World's Top 10 Gorgeous Garden Destinations to Amaze and Inspire
Toronto, ON (PRWEB) May 04, 2012
Green spaces can make or break a city's appeal, changing concrete jungles to scenic cityscapes with well-placed parks and gardens. While nature enthusiasts and those with green fingers might already know where some of the world's best garden destinations lie, FlightNetwork.com unveils the top 10 destinations to inspire gardeners, a must-read list for everyone who wants to try something new and take flight to destinations filled with gardens of every type, style, technique, and vintage.
Travellers can choose to explore the exotic gardens of Morocco, walk in the beautifully manicured parks of England, or stick closer to home in Canada's very own garden cities. From the wild abandon of ornate Italian gardens filled with extravagance and flair, to the meticulous planning of Japanese ones dating back to hundreds of years, and even botanical gardens where science rules above all else, visiting these destinations are a great way to get an insight into local ways of life and even seek inspiration for their gardens at home, all the while be surrounded by an explosion of colour and breathtaking vistas.
Every place on the list leads to something completely different, so whether one is an amateur horticulturist looking for tips and ideas or just someone with a curious mind and appreciation for beauty, FlightNetwork.com has a garden destination for travellers of every stripe on its list of the World's Top 10 Gorgeous Garden Destinations to Amaze and Inspire.
About FlightNetwork.com (http://www.flightnetwork.com)
As one of Canada's leaders in online travel, FlightNetwork.com delivers the lowest airfares from the top airlines by offering consumers access to over 2 million bulk rates on cheap flights negotiated with major airlines. Its proprietary flight booking engine offers last second booking and the exclusive ability to 'mix and match' fares – the only Canadian online travel agency that allows booking on different airlines for departure and return flights to get the lowest fares possible. Backing up Flight Network's award winning online service are over 120 insightful travel specialists in the FlightNetwork.com call centre who ensure that customers successfully book the best travel deals.
FlightNetwork.com's Price Drop Protection plan is a unique, free program, exclusive to FlightNetwork.com customers on all economy flights, cheap vacations and discount hotels. The Price Drop Deal covers up to a $100 drop on USA and international flights, and unlimited drops on domestic flights, vacations and hotel bookings. If you book with FlightNetwork.com, and the price drops after you book, you will get the difference credited back.